Harry Potter Boxed Set: The Complete Collection Adult Paperback
A Paperback edition by J. K. Rowling in English (Nov 7, 2013)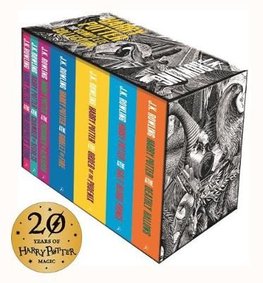 $71.25 + FREE delivery
RRP $84.74 You save $13.49 (15%)
FREE delivery to United States in 6-12 working days

Ready To Go

This book will leave our UK warehouse within 1-2 working days.
Short Description: Celebrate 20 years of Harry Potter magic! ... Read more
Product Description
Celebrate 20 years of Harry Potter magic!
J.K. Rowling's Harry Potter novels are now available in these spectacular new editions, with beautifully designed jackets by renowned woodcut artist Andrew Davidson. This stylish boxed set includes all seven novels and is perfect for Harry Potter novices and collectors alike.
Contains (in reading order): Harry Potter and the Philosopher's Stone, Harry Potter and the Chamber of Secrets, Harry Potter and the Prisoner of Azkaban, Harry Potter and the Goblet of Fire, Harry Potter and the Order of the Phoenix, Harry Potter and the Half-Blood Prince, and Harry Potter and the Deathly Hallows.
Customer Reviews

5 stars
Write a review

for Harry Potter Boxed Set: The Complete Collection Adult Paperback
5 stars 3 customer reviews
5 stars

Jul 30, 2016
United Kingdom

A must have!

Beautiful collection for anyone that adores the Harry Potter series!

5 stars

Jul 28, 2016
By Jasmyn (1)
Dorking United Kingdom

A bold version of a classic

Beautiful books - it took me a while to get used to the colours, but I love them now that my eye has adjusted!

The stories are the same as they always have been. These softbacks are durable - I commute into work, and every individual book has gone with me several times without gaining any unsightly damage. The display box is beautiful, and adds that little extra to the books.

Wordery, as always, had the books with me in a timely manner and the condition was perfect.

Great Looking

They look great! The art on the box and covers is really good and suits the books well. The books themselves are as you would expect, they are the harry potter books everyone grew up with so no complaints there. As can always be expected from Wordery the package came on time, undamaged. If you love the harry potter series then this book collection would be perfect for you.
Write a Review