Hiking and Trekking in the Japan Alps and Mount Fuji
: Northern, Central and Southern Alps
A Paperback edition by Tom Fay and Wes Lang in English (Mar 15, 2019)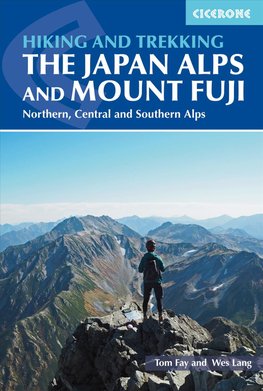 Available to pre-order.

Dispatched by March 15, 2019 with FREE delivery to United States
Short Description: English-language guidebook to the Japan Alps, featuring 31 walks and treks in the North, Central and South Alps, and the Mt Fuji area. Routes range from short, easy walks to long,... Read more
Product Description
English-language guidebook to the Japan Alps, featuring 31 walks and treks in the North, Central and South Alps, and the Mt Fuji area. Routes range from short, easy walks to long, tough treks and thrilling scrambles. Covers popular areas of Hakuba, Tateyama, Kamikochi, Kawaguchiko. With full information on travel, camping, mountain huts and more.
Hiking and Trekking in the Japan Alps and Mount Fuji Paperback edition by Tom Fay
Product Details
Product Specification
Author

Author

ISBN-13

9781852849474

Format

Paperback,

Publisher

Publication date

Mar 15, 2019

Pages

400

Product dimensions

116 x 172 x 22mm

Weight

229g
Map key
Overview map
Introduction
Preparations and practicalities
When to go
Getting to Japan
Getting around Japan
Rail passes
Accommodation
Mountain huts and camping
Food and drink
Hot springs
Money
Communications
Language
Tourist information offices
What to take
Luggage forwarding
Maps and GPS
Waymarking
The typical hiking day
Mountain etiquette
Health and safety
Emergencies
Using this guide
All about the Japan Alps and Mt Fuji
Location and climate
Geology and landscape
Plants and wildlife
History of hiking in Japan
The North (Kita) Alps
Hakuba Area
Walk 1 Mt Shirouma-dake
Trek 1 Mt Shirouma-dake and Hakuba-Yari Onsen
Tateyama Area
Walk 2 Mt Tateyama
Walk 3 Mt Oku-dainichi-dake
Trek 2 Mt Tsurugi-dake
Trek 3 North Alps traverse
Hotaka Area
Walk 4 Mt Yake-dake
Walk 5 Mt Nishiho-Doppy?
Trek 4 Mt Oku-Hotaka-dake and Karasawa Cirque
Trek 5 Mt Yari-ga-take
Trek 6 Mt Ch?-ga-take and Mt J?nen-dake
Trek 7 Mt Kasa-ga-take
Norikura Area
Walk 6 Mt Norikura-dake
The Central (Ch??) Alps
Walk 7 Mt Kiso-koma-ga-take
Trek 8 Central Alps traverse
The South (Minami) Alps
North Area
Walk 8 Mt Kai-koma-ga-take
Walk 9 Mt Senj?-ga-take
Trek 9 Mt Kita-dake
Trek 10 Mt H?-?
South Area
Trek 11 Mt Arakawa-Higashidake (Mt Warusawa) and Mt Akaishi-dake
Trek 12 Mt Kamik?chi-dake and Mt Hijiri-dake
Trek 13 South Alps traverse
Mt Fuji
Walk 10 Mt Fuji - Yoshida route
Walk 11 Mt Fuji - Subashiri route
Walk 12 Mt Fuji - Gotemba route
Walk 13 Mt Fuji - Fujinomiya route
Walk 14 Mt Kuro-dake
Appendix A Route summary table - walks
Appendix B Route summary table - treks
Appendix C Mountain huts
Appendix D Glossary
Appendix E Useful contacts and further resources
Appendix F Further reading
Categories
Non-Fiction Sport & Fitness Sport Active Outdoor Pursuits Walking, Hiking, Trekking