Human Insecurities in Southeast Asia
A Paperback edition by Paul J. Carnegie in English (Jun 27, 2018)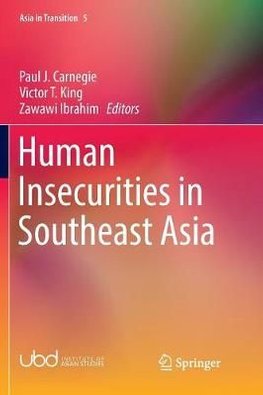 Short Description: This book is a collection of work by scholars currently pursuing research on human security and insecurities in Southeast Asia. It deals with a set of ?insecurities' that is not... Read more
Product Description
This book is a collection of work by scholars currently pursuing research on human security and insecurities in Southeast Asia. It deals with a set of ?insecurities' that is not readily understood or measurable. As such, it conceptually locates the threats and impediments to ?human security' within relationships of risk, uncertainty, safety and trust. At the same time, it presents a wide variety of investigations and approaches from both localized and regional perspectives. By focusing on the human and relational dimensions of insecurities in Southeast Asia it highlights the ways in which vulnerable and precarious circumstances (human insecurities) are part of daily life for large numbers of people in Southeast Asia and are mainly beyond their immediate control. Many of the situations people experience in Southeast Asia represent the real outcomes of a range of largely unacknowledged socio-cultural-economic transformations interlinked by local, national, regional and global forces, factors and interests. Woven from experience and observations of life at various sites in Southeast Asia, the contributions in this volume give an internal and critical perspective to a complex and manifold issue. They draw attention to a variety of the less-than-obvious threats to human security and show how perplexing those threats can be. All of which underscores the significance of multidisciplinary approaches in rethinking and responding to the complex array of conditioning factors and interests underlying human insecurities in Southeast Asia.
Human Insecurities in Southeast Asia Paperback edition by Paul J. Carnegie
Product Details
Product Specification
Edited by

Edited by

Edited by

ISBN-13

9789811095726

Series

Format

Paperback,

Publisher

Publication date

Jun 27, 2018

Edition

Softcover reprint of the original 1st ed. 2016

Pages

200

Product dimensions

155 x 235mm

Weight

3,285g
1: Introduction.- 2: Of Risk, Uncertainty, Safety and Trust: (Re)locating Human Insecurities.- 3: `Anthropologizing Human Insecurities': Narrating the Subjugated Discourse of Indigenes on the Deterritorialized Landscapes of the Malaysian Nation-State.- 4: Imagined Communities, Militancy and Insecurity in Indonesia.- 5: Space, Mobilities and Insecurity in Maritime Sabah: The Impact of Government Bordering Practices following the 2013 Intrusion.- 6: How Safe is Safe? `Safe migration' in Southeast Asia.- 7: Can ASEAN Cope with `Human Insecurity' in Southeast Asia? In Search of a New Asian Way.- 8: Historical Injustice and Human Insecurity: Conflict and Peace-Making in Muslim Mindanao.- 9: Civil Movements and Human Insecurity: A Case from Thailand.- 10: Human Insecurities in Southeast Asia: Impediments to Achieving a People-Oriented ASEAN.- 11: Plantation Economy, Indigenous People and Precariousness in the Philippine Uplands: The Mindanao Experience.- 12: Conclusion.- Index.
Categories
Non-Fiction Science & Medicine Earth Sciences, Geography, Environment, Planning Geography Human Geography
Non-Fiction Language & Reference Reference Interdisciplinary Studies Peace Studies & Conflict Resolution
Non-Fiction Psychology & Social Science Society & Culture: General Social Issues & Processes
Non-Fiction Psychology & Social Science Society & Culture: General Social Issues & Processes Migration, Immigration & Emigration
Non-Fiction History, Politics & Philosophy Politics & Government