Impacts of Border Enforcement on Mexican Migration
: The View from Sending Communities
A Paperback edition by Wayne A. Cornelius and Jessa M. Lewis in English (Dec 15, 2006)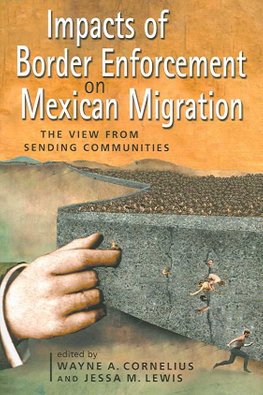 Short Description: This important new book reveals how the stricter US border-control activities of the past decade have affected the behavior of migrants and potential migrants in rural Mexico. The... Read more
Product Description
This important new book reveals how the stricter US border-control activities of the past decade have affected the behavior of migrants and potential migrants in rural Mexico. The authors establish direct links between changes in immigration-control policies and changes in the decision to migrate, choice of destination, mode of entry, and inclination to participate in a temporary worker program. They also point to the unintended consequences of new control measures, such as the increasing rate of settlement among illegal migrants, higher fees paid to professional people - smugglers, increased injury and fatality rates due to clandestine entry, and changing composition of migrant flows. Collectively, they present detailed and direct evidence of the failure of post-1993 US strategy to deter unauthorized entry across the US-Mexico border, and the reasons for this failure.
Impacts of Border Enforcement on Mexican Migration Paperback edition by Wayne A. Cornelius
Product Details
Product Specification
Author

Author

ISBN-13

9780970283870

Series

Format

Paperback,

Publisher

Publication date

Dec 15, 2006

Pages

240

Product dimensions

152 x 222 x 13mm

Weight

294g
Introduction - W.A. Cornelius. Profiles of the Research Communities - Y. Barajas, J. Besada, E. Valdez-Suiter, and C. White. The Contemporary Migration Process - S. Gaytan, E. Lucio, F. Shaiq, and A. Urdanivia. Impacts of U.S. Immigration Policies on Migration Behavior - J. Fuentes, H. L'Esperance, R. Perez, and C. White. Settlement in the United States - H. Lopez, R. Oliphant, and E. Tejeda. Gender Differences in Migration - N. Rosas-Lopez, N. Pagaza, and E. Valdez-Suiter. Generational Differences in Migration - S. Aguilar, M. Cornejo, and L.M. Henriquez. Migration and Local Development - B. Cantu, F. Shaiq, and A. Urdanivia. Migration and Political Involvement - W. Chiu and M. Gutierrez.
Categories
Non-Fiction Psychology & Social Science Society & Culture: General Social Issues & Processes Migration, Immigration & Emigration