Indie 2.0
: Change and Continuity in Contemporary American Indie Film
A Paperback edition by Geoff King in English (Apr 30, 2013)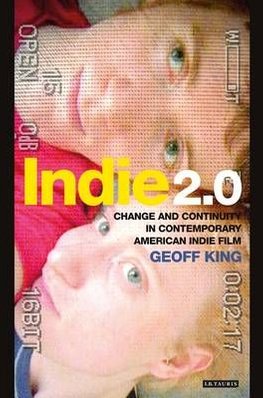 $25.44 + FREE delivery
RRP $26.85 You save $1.41 (5%)
Short Description: What is the state of American indie cinema in the second decade of the twenty-first century? Some have forecast an end to the viability of an indie sector marked by the appearance... Read more
Product Description
What is the state of American indie cinema in the second decade of the twenty-first century? Some have forecast an end to the viability of an indie sector marked by the appearance of films with ambitions significantly beyond those of the commercial mainstream. But, as this book demonstrates, plenty of distinctively indie productions continue to thrive, even in the face of difficult economic circumstances. Using the term indie 2.0 to denote the particular form of independent feature production that achieved cultural prominence in this contemporary period, Geoff King explores new opportunities for indie films, including the use of low-cost digital video and the pursuit of the internet and social media as alternative means of funding, distribution, promotion and sales.
Other detailed case studies focus on the ultra-low-budget 'mumblecore' movement; the social realism of filmmakers such as Kelly Reichardt and Ramin Bahrani; the 'digital desktop' aesthetics of Susan Buice and Arin Crumley's "Four Eyed Monsters" and Jonathan Caouette's "Tarnation", and the articulation of notions of 'true' indie in opposition to what are seen by some as the quirky contrivances of cross-over hits such as "Little Miss Sunshine" and "Juno".
Indie 2.0 Paperback edition by Geoff King
Product Details
Product Specification
Author

ISBN-13

9781848853171

Series

Format

Paperback,

Publishers

Publication date

Apr 30, 2013

Pages

320

Product dimensions

168 x 238 x 24mm

Weight

502g
List of Illustrations
Introduction: Discourses on the state of indie film
1. Quirky by design? Irony vs. sincerity in Little Miss Sunshine and Juno
2. Industry 2.0: The digital domain and beyond
3. Mumblecore
4. Social realism and art cinema: The films of Kelly Reichardt and Ramin
Bahrani
5. The desktop aesthetic: First-person expressive in Tarnation and Four Eyed
Monsters
Conclusion: Indie lives!
Notes
Select bibliography
Index
Categories
Non-Fiction Music, Film & Drama Film, TV & Radio Films, Cinema