Ireland: 1641
: Contexts and Reactions
A Paperback edition by Dr. Micheal O Siochru in English (Mar 1, 2015)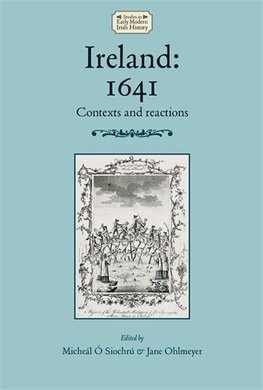 $31.80 + FREE delivery
RRP $42.95 You save $11.15 (25%)
Short Description: The 1641 rebellion is one of the seminal events in early modern Irish and British history. Its divisive legacy, based primarily on the sharply contested allegation that the... Read more
Product Description
The 1641 rebellion is one of the seminal events in early modern Irish and British history. Its divisive legacy, based primarily on the sharply contested allegation that the rebellion began with a general massacre of Protestant settlers, is still evident in Ireland today. Thousands of witness testimonies (the 1641 Depositions) housed in Trinity College Dublin became central to one of the most protracted and bitter of Irish historical controversies. This controversy has never been satisfactorily resolved as successive generations invented and re-invented the past in response to contemporary political developments. Propagandists, politicians and historians all exploited the surviving evidence at different times to justify their implacable hostility towards Irish nationalism and the Catholic religion. The 1641 'massacres', therefore, like King William's victory at the Boyne (1690) and the Battle of the Somme (1916) played a key role in creating and sustaining a collective Protestant/British identity in Ulster, in much the same way that the subsequent Cromwellian conquest in the 1650s helped forge a new Irish Catholic national identity.
The original and wide-ranging themes chosen for this volume, along with the high standard of the contributions from leading international scholars, will ensure that this edited collection becomes required reading for all those interested in the 1641 Rebellion, as well as the history of early modern Ireland and Europe. It will also appeal to those engaged in early colonial studies in the Atlantic world and beyond, as the volume adopts a genuinely comparative approach throughout, examining developments in a broad global context.
Ireland: 1641 Paperback edition by Dr. Micheal O Siochru
Product Details
Product Specification
Edited by

Edited by

Series edited by

ISBN-13

9780719097263

Series

Format

Paperback,

Publisher

Publication date

Mar 1, 2015

Pages

304

Product dimensions

159 x 237 x 19mm

Weight

444g
1. Introduction: 1641: fresh contexts and perspectives - Jane Ohlmeyer and Micheal O Siochru
2. Early modern violence from memory to history: a historiographical essay - Ethan Shagan
3. The 1641 massacres - Aidan Clarke
4. 1641 in a colonial context - Nicholas Canny
5. Towards a cultural geography of the 1641 Rising/Rebellion - Willie Smyth
6. Out of the blue? Provincial unrest in Ireland before 1641 - David Edwards
7. News from Ireland: Catalan, Portuguese and Castilian pamphlets on the Confederate War in Ireland - Hiram Morgan
8. Performative Violence? Patterns of political violence in the 1641 Depositions - John Walter
9. Atrocities in the Thirty Years War - Peter Wilson
10. Why remember terror? Memories of violence in the Dutch Revolt - Judith Pollman & Erika Kuijpers
11. Language and conflict in the Wars of Religion - Mark Greengrass
12. How to make a successful plantation: colonial experiment in America - Karen Kupperman
13. An Irish Black legend? 1641 and the Iberian Atlantic - Igor Perez Tostado
Afterword: settler colonies, ethnoreligious violence, and historical documentation: comparative reflections on Southeast Asia and Ireland - Ben Kiernan
Index -- .
Categories
Non-Fiction History, Politics & Philosophy History History: Earliest Times To Present Day Early Modern History: C 1450/1500 To C 1700
Non-Fiction History, Politics & Philosophy History Regional & National History European History British & Irish History