Iron Man vs. Captain America and Philosophy
A Paperback edition by Nicolas Michaud in English (Aug 14, 2018)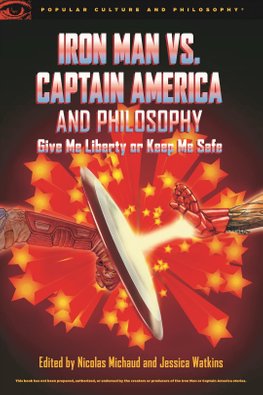 $18.74 + FREE delivery
RRP $19.95 You save $1.21 (6%)
FREE delivery to United States in 4-8 working days

Ready To Go

This book will leave our UK warehouse within 1-2 working days.
Short Description: Iron Man or Captain America? Which one is superior?as a hero, as a role model, or as a personification of American virtue? Philosophers who take different sides come together in... Read more
Product Description
Iron Man or Captain America? Which one is superior?as a hero, as a role model, or as a personification of American virtue? Philosophers who take different sides come together in Iron Man versus Captain America to debate these issues and arrive at a deeper understanding of the strengths and weaknesses of these iconic characters. The discussion ranges over politics, religion, ethics, psychology, and metaphysics.
John Altmann argues that Captain America's thoughtful patriotism, is superior to Iron Man's individualist-cosmopolitanism. Matthew William Brake also votes for Cap, maintaining that it's his ability to believe in the impossible that makes him a hero, and in the end, he is vindicated.
Cole Bowman investigates the nature of friendship within the Avengers team, focusing predominantly on the political and social implications of each side of the Civil War as the Avengers are forced to choose between Stark and Rogers. According to Derrida's Politics of Friendship, Cap is the better friend, but that doesn't make him the winner!
Aron Ericson's chapter tracks our heroes' journeys in the movies, culminating with Civil War, where the original attitudes of Tony (trusts only himself) and Steve (trusts ?the system?) are inverted.
Corey Horn's chapter focuses on one of the many tensions between the sides of Iron Man and Captain America?the side of Security (Iron Man) versus Liberty (Cap). But Maxwell Henderson contends that if we dig deeper into the true heart of the Marvel Civil War, it isn't really about security or privacy but more about utilitarianism?what's best for everybody. Henderson explains why Iron Man was wrong about what was best for everybody and discloses what the philosopher Derek Parfit has to say about evaluating society from this perspective.Daniel Malloy explains that while both Captain America and Iron Man have faced setbacks, only Iron Man has failed at being a hero?and that makes him the better hero! In his other chapter, Malloy shows that where Iron Man trusts technology and systems, Captain America trusts people. Jacob Thomas May explores loss from the two heroes' points of view and explains why the more tragic losses suffered by Stark clearly make him the better hero and the better person.
Louis Melancon unpacks how Captain America and Iron Man each embodies key facets of America attempts to wage wars: through attrition and the prophylactic of technology; neither satisfactorily resolves conflict and the cycle of violence continues. Clara Nisley tests Captain America and Iron Man's moral obligations to the Avengers and their shared relationship, establishing Captain America's associative obligations that do not extend to the arbitration and protection of humans that Iron Man advocates.
Fernando Pagnoni Berns considers that while Iron Man is too much attached to his time (and the thinking that comes with it), Captain America embraces-historical values, and thinks that there are such things as intrinsic human dignity and rights?an ethical imperative.Christophe Porot claims that the true difference between Captain America and Iron Man stems from the different ways they extend their minds. Cap extends his mind socially while Stark extends his through technology. Heidi Samuelson argues that the true American spirit isn't standing up to bullies, but comes out of the self-interested traditions of liberal capitalism, which is why billionaire, former-arms-industry-giant Tony Stark is ultimately a more appropriate American symbol than Steve Rogers. By contrast, Jeffrey Ewing shows that the core of Captain America: Civil War centers on the challenge superpowers impose on state sovereignty (and the monopoly of coercion it implies).
Nicol Smith finds that Cap and Shell-Head's clash during the Civil War does not necessarily boil down to the issue of freedom vs. regulation but rather stems from the likelihood that both these iconic heroes are political and ideological wannabe supreme rules or ?Leviathans.? Craig Van Pelt reconstructs a debate between Captain America and Iron Man about whether robots can ever have objective moral values, because human bias may influence the design and programming.
James Holt looks into the nature of God within Captain America's world and how much this draws on the ?previous life? of Captain Steve Rogers. Holt's inquiry focuses on the God of Moses in the burning bush, as contrasted with David Hume's understanding of religion. Gerald Browning examines our two heroes in a comparison with the Greek gods Hephaestus and Hercules. Christopher Ketcham supposes that, with the yellow bustard wreaking havoc on Earth, God asks Thomas Aquinas to use his logical process from Summa Theologica to figure which one of the two superheroes would be better at fixing an economic meltdown, and which one would be better at preventing a war.
Rob Luzecky and Charlene Elsby argue that gods cannot be heroes, and therefore that the god-like members of the Avengers (Iron Man, with a god's intelligence; Thor, with a god's strength, and the Hulk, with a god's wrath) are not true heroes in the same sense as Captain America. Cap is like Albert Camus's Sisyphus, heroic in the way that he rallies against abstract entities like the gods and the government.
Iron Man vs. Captain America and Philosophy Paperback edition by Nicolas Michaud
Product Details
Product Specification
Edited by

Edited by

ISBN-13

9780812699760

Series

Format

Paperback,

Publisher

Publication date

Aug 14, 2018

Pages

288

Product dimensions

190 x 230 x 16mm

Weight

388g
Acknowledgments
Clash of the Archetypes
1. How Captain America and Iron Man Embody America
JOHN ALTMANN
2. Believing the Impossible in a World of Compromise
MATTHEW WILLIAM BRAKE
3. Captain America and Iron Man: The Gods of Marvel
GERALD BROWNING
4. Avengers Dissemble!
COLE BOWMAN
5. Trust Only Yourself or Trust the System
ARON ERICSON
6. Iron Man Don't Know Best
MAXWELL HENDERSON
7. One God or Many Gods in the World of the Avengers
JAMES HOLT
8. Civil War! Liberty versus Security
COREY HORN
9. Doctor Angelicus's Interregnum
CHRISTOPHER KETCHAM
10. A Man Fighting amongst the Gods
ROB LUZECKY AND CHARLENE ELSBY
11. The Tarnished Hero
DANIEL MALLOY
12. The Technocrat and the Democrat
DANIEL MALLOY
13. I Don't Care, He Killed My Mom
JACOB THOMAS MAY
14. Trapped in Violence: The American Way of War
LOUIS MELANCON
15. The Different Paths of Good Men
CLARA NISLEY
16. Captain America's Ethical Imperative
FERNANDO PAGNONI BERNS
17. The Extended Shield: Mind, Morality, and Civil War
CHRISTOPHE POROT
18. Will the Real American Hero Please Stand Up?
HEIDI SAMUELSON
19. Red vs. Blue or Both Simply Leviathan Green?
NICOL SMITH
20. Champion of the People: Technology and the Fourth Industrial Revolution
CRAIG VAN PELT
21. Superpowers and the Challenge to State Sovereignty
JEFFREY EWING
References
Author Bios
Index
Categories
Fiction Graphic Novels Graphic Novels: History & Criticism
Non-Fiction History, Politics & Philosophy Philosophy Ethics & Moral Philosophy
Non-Fiction Language & Reference Language & ELT Literature & Literary Studies Literature: History & Criticism Literary Studies: Fiction, Novelists & Prose Writers