Jane Eyre the Graphic Novel
: Original Text
A Hardback edition by Charlotte Charlotte Bronte and John M Burns in English (Mar 14, 2017)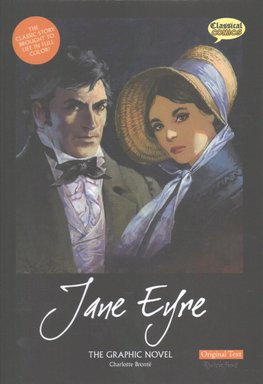 Short Description: The original novel was written in 1847 and was first published as Jane Eyre: An Autobiography under the pseudonym Currer Bell. The story was an instant success and in 1848... Read more
Product Description
The original novel was written in 1847 and was first published as Jane Eyre: An Autobiography under the pseudonym Currer Bell. The story was an instant success and in 1848 Charlotte Brontë revealed herself as the author.
Jane Eyre is a plain, determined and intelligent child. Orphaned and poor, she is adopted by her Aunt and Uncle Reed. The death of Uncle Reed allows her unpleasant aunt and cousins to treat Jane cruelly. They send her away to a charity school, which grim place continues her harsh upbringing, but gives her the education that finally frees her. Once old enough, she becomes a teacher and takes the role of governess in a large manor house, Thornfield. It's there that she meets and falls in love with Rochester, her employer ? but Rochester is hiding a secret, which when revealed means that Jane has to choose between following her head or her heart.
The original novel was both critically acclaimed, and immensely popular, dealing as it does with concepts of class discrimination, morality, equality for women (unheard of in Victorian Britain) and freedom of choice.
Designed to encourage readers to enjoy classical literature, titles in the Classical Comics range stay true to the original vision of the authors. They also offer alternative text versions to cater for different readership levels. This title has been moderately and sympathetically abridged from the original text to fit within the graphic novel format. Despite that, all of the events of the book are represented in every version ? it's only the speech that changes!
The book includes an illustrated Character List (like a Dramatis Personae), 125 pages of story artwork (by the legendary UK comic book artist, John M. Burns), and fascinating support material detailing the life of Charlotte Brontë - all beautifully presented in color.
To support the use of this title in the classroom, photocopiable teachers resources are available that offer lesson plans and activities from 6th grade and up: ISBN 978-1-906332-55-6
Jane Eyre the Graphic Novel Hardback edition by Charlotte Charlotte Bronte