Key Questions in Thoracic Surgery
A Paperback edition by Narain Moorjani and Nicola Viola in English (Aug 1, 2015)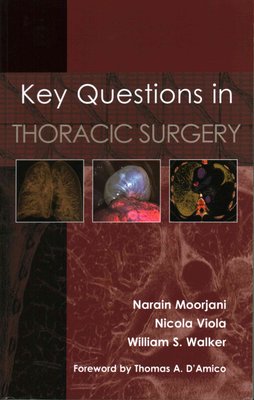 $85.27 + FREE delivery
RRP $125.00 You save $39.73 (31%)
No longer available for delivery before Christmas to the United States

FREE delivery to United States in 6-12 working days

Ready To Go

This book will leave our UK warehouse within 1-2 working days.
Short Description: Following on from the success of the international best-seller "Key Questions in Cardiac Surgery", the long-awaited "Key Questions in Thoracic Surgery" will be the next book in the... Read more
Product Description
Following on from the success of the international best-seller "Key Questions in Cardiac Surgery", the long-awaited "Key Questions in Thoracic Surgery" will be the next book in the Key Questions series to be released. This book will systematically cover all the main topics involved in the current practice of a thoracic surgeon. It will incorporate current guidelines for practice (such as from the American College of Chest Physicians, British Thoracic Society and European Respiratory Society) and up-to-date information based on current literature. Each chapter will be structured to include aetiology, pathophysiology, clinical features, indications for surgery, perioperative management, surgical options and postoperative care. Possible complications will be discussed and the results of current practice presented. Importantly, there will be a section on basic sciences related to the practising thoracic surgeon and a further section on thoracic investigations with many images illustrating the variety of pathologies. Each chapter will also contain important references for further reading and greater depth of knowledge.
The data and body of knowledge presented in this book is strictly evidence-based and is relevant to all thoracic surgical trainees, at any stage of their training programme. It will provide residents, fellows and specialist registrars the necessary information to carry out their daily duties. Respiratory physicians and thoracic intensive care unit specialists will also find the book useful in terms of the indications and surgical management of these patients, as they are integral to the thoracic surgical process. Another important group is the nursing staff, physiotherapists and other professions allied to medicine working with patients with adult thoracic disease either pre-operatively or post-operatively, as it will help to give a detailed understanding of the principles surrounding thoracic surgical disease. Most importantly, the book is ideal as a revision aid for residents/registrars undertaking their Cardiothoracic Surgery Board examinations around the world. Although these examinations vary in format in different countries, this book is applicable to all cardiothoracic surgical trainees.
Its concise, yet complete coverage of the important topics, make it the ideal guide to answer the key questions in thoracic surgery that are asked within the confines of an examination.
Key Questions in Thoracic Surgery Paperback edition by Narain Moorjani
Product Details
Product Specification
Author

Author

Author

ISBN-13

9781903378861

Format

Paperback,

Publisher

Publication date

Aug 1, 2015

Pages

1,068

Product dimensions

150 x 235 x 58mm

Weight

2,236g
Contents include: Thoracic Anatomy; Thoracic Physiology; Thoracic Pharmacology; Thoracic Imaging; Pulmonary Function Tests; Esophageal Function Tests; Pre-Operative Assessment; Thoracic Anesthesia; Common Thoracic Surgical Procedures, Including Video-Assisted Thoracoscopic Surgery (VATS); Thoracic Surgical Complications; Non-Small-Cell Lung Cancer; Small-Cell Lung Cancer; Chemotherapy; Radiotherapy; Carcinoid & Benign Pulmonary Tumors; Pulmonary Metastases; Solitary Pulmonary Nodule; Bullous Disease, Emphysema & Lung Volume Reduction Surgery (LVRS); Pulmonary Infections (Including Tuberculosis, Bronchiectasis, Cystic Fibrosis); Interstitial Lung Disease; Pulmonary Transplantation; Hemoptysis; Tracheal Lesions; Mesothelioma; Pleural Effusion; Pneumothorax & Pneumomediastinum; Hemothorax; Chylothorax; Empyema; Pectus Deformities; Chest Wall Tumors; Esophageal Cancer (Including Barretts Esophagus); Gastro-Esophageal Reflux Disease & Hiatus Hernia; Achalasia, Esophageal Motility Disorders & Esophago-Phayngeal Diverticula; Mediastinal Lesions; Thymus (Thymoma, Myastenia Gravis); Diaphragmatic Lesions; SVC Syndrome, Thoracic Outlet Syndrome & Hyperhidrosis; Thoracic Trauma; Index.
Categories
Non-Fiction Science & Medicine Medicine Surgery Cardiothoracic Surgery
Non-Fiction Science & Medicine Medicine Medical Study & Revision Guides