Konosuba: God's Blessing on This Wonderful World!, Vol. 6 (light novel)
A Paperback edition by Natsume Akatsuki and Kurone Mishima in English (Aug 21, 2018)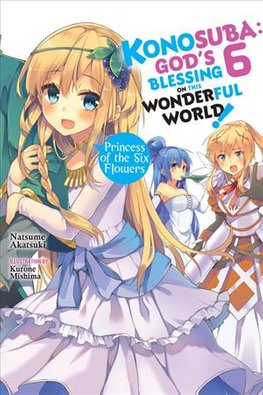 Sorry we don't currently have this.
Please click below and we will notify you when it is back in stock.
Short Description: I WANT A LITTLE SISTER!... Read more
Product Description
I WANT A LITTLE SISTER!
As Kazuma spends his downtime bemoaning his party's lack of a little-sister archetype, he's invited to a royal banquet, where he meets the young Princess Iris. She's enthralled by his tales of adventure, and once she takes a liking to him, Kazuma ends up getting transported to the royal castle! Though he's initially unsure of what to expect, life with Iris turns out to be a dream come true, and Kazuma doesn't ever want to wake up. . .so when he hears rumors of a "righteous thief" stalking the capital, Kazuma declares he'll be the one to capture the dastardly do-gooder!
Konosuba: God's Blessing on This Wonderful World!, Vol. 6 (light novel) Paperback edition by Natsume Akatsuki