Lingam Massage
: Awakening Male Sexual Energy
A Paperback edition by Michaela Riedl and Jurgen Becker in English (Mar 9, 2010)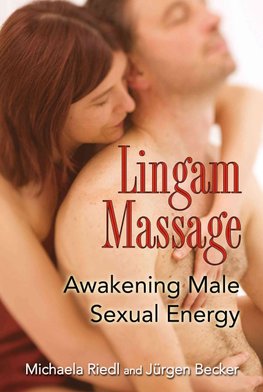 $15.99 + FREE delivery
RRP $18.99 You save $3.00 (15%)
Short Description: A tantric massage practice for awakening and honoring male creative energy and allowing a man conscious, loving contact with his own masculinity... Read more
Product Description
A tantric massage practice for awakening and honoring male creative energy and allowing a man conscious, loving contact with his own masculinity
? Empowers men to expand and deepen their experience of arousal and sensuality
? Demonstrates how deep relaxation is important to a strong and lasting erection
? Shows how the lingam connects a man to his dynamic strength while the prostate is linked to his more receptive side
Lingam is the Sanskrit word for the male generative organ, the penis. In India, the lingam is revered as an expression of Shiva's clarity, symbolizing the fine sword that differentiates between truth and falsehood. The goal of a lingam massage is to provide a man conscious, loving contact with his own masculinity. Western cultural expectations around sexual "performance" have created sexual difficulties for many men, including erectile dysfunction and premature ejaculation. Through loving touch, lingam massage provides the deep relaxation that supports sustained erection, putting a man in touch with less familiar aspects of his sexuality, including the energetic responses of his perineum, prostate gland, and anus.
Lingam massage is not simply a hands-on technique but involves the conscious direction of energy throughout the body. It allows men to savor longer, deeper orgasms and teaches taoist and tantric practices for conserving sexual energy. Over time, as his consciousness deepens, these practices give a man complete control over his ejaculation.
Lingam Massage Paperback edition by Michaela Riedl
Product Details
Product Specification
Author

Author

ISBN-13

9781594773143

Format

Paperback,

Publishers

Publication date

Mar 9, 2010

Pages

224

Product dimensions

154 x 228 x 19mm

Weight

356g
Preface by Jurgen Becker
Preface by Michaela Riedl
Introduction
1 Male Sexuality
The Lingam as Symbol
Exploring the Lingam
The Anatomy of Male Sexual Organs
Massaging the Lingam Shaft
Massaging the Glans
Lingam Self-Massage for the Prostate
Massaging the Perineum, the Lingam Root,and the Prostate
Massaging and Touching the Testicles
Exercise for the Muscles of the Pelvic Floor
The Anus Self-Love Ritual
The Secret of the Erection
Physical Reasons for Erection Problems
Exercise for Potency: Lingam Self-Massage in the Bathtub
Ejaculation
Lingam Self-Massage Combined with the Stop-and-Go Method
The Male Orgasm
Riding the First Wave
Felt and Spoken Exercises during Lingam Massage
Male Menopause
2 Energetic and Spiritual Basics
The Taoist Philosophy of the Five Elements
Wood--The Power of Expansion
Humming as Stimulation
Humming to Harmonize with Your Massage Partner
Body Flow Exercise
Body Flow with a Partner
Fire--The Power of Saying "Yes"
Heart Encounter
Yes-Yes Exercise
Hey-Yes Exercise
Shaking Meditation
Dance
Earth--The Strength of Openness
Loving Eye Contact
Empowering the Senses
Feeling the Lingam and Connecting Head, Heart, and Pelvis
"Yes" Visualization for Lingam Massage
Metal--The Strength of Courage
Access to Your Hidden Sexual Self
Feeling Your Breath
Feeling Electricity Under Your Skin
Breathing During Lingam Massage
Rhythmic Full Breathing
Variation A--Activating the Microcosmic Orbit
Variation B--The Inner Flute
Variation C--The Straw
Synchronizing Breathing and Touch
Penis Breathing
Anal Breathing
Water--The Strength of Calmness
Progressive Muscle Relaxation
The Seventeen Steps
The Big Draw--The Technique
3 The Lingam and Prostate Massage
A Conscious Approach to Lingam Massage
The Lingam Massage--Phase by Phase
Phase 1: Honoring the Shiva
Preparations
Phase 2: The Preparatory Full-Body Massage
Massaging the Yang Side
Massaging the Yin Side
Phase 3: Awakening Desire
Phase 4: From the Root to the Flower
Phase 5: Awakening the Lingam
Phase 6: Riding the Wave
Phase 7: The Finale
Phases 8 and 9: Feeling and Farewell
Concluding Thoughts on Lingam Massage
4 The Blessings of Anal and Prostate Massage
Anal Massage: Source of Arousal and Letting Go
The Prostate and the G-spot
The Spirituality of the Pelvic Floor
Anal and Prostate Massage and the Ability to Touch
Anal and Prostate Massage Step by Step
Anal and Prostate Massage--Option 1
Anal and Prostate Massage--Option 2
Anal and Prostate Massage--Option 3
Appendix
Experience Reports
Afterword by Joseph Kramer
Notes
About the Authors
Index
Categories
Non-Fiction Sport & Fitness Fitness & Diet Massage
Non-Fiction Health & Lifestyle Family & Health Family & Relationships Sex & Sexuality, Sex Manuals