Linocut for Artists and Designers
A Paperback edition by Nick Morley in English (Apr 25, 2016)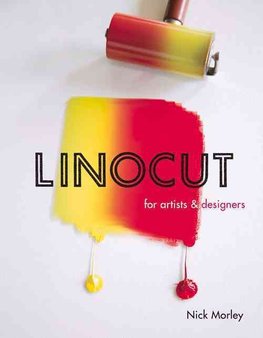 $24.01 + FREE delivery
RRP $36.95 You save $12.94 (35%)
This product will not arrive in time Christmas

FREE delivery to United States in 9-17 working days
Short Description: Linocut is used to stunning effect by artists, illustrators, and designers because of its strong graphic qualities, accessibility, and versatility. Whether you are printing by hand... Read more
Product Description
Linocut is used to stunning effect by artists, illustrators, and designers because of its strong graphic qualities, accessibility, and versatility. Whether you are printing by hand on your kitchen table or on a press in a print studio, this book gets you started and goes on to explore the myriad creative applications of linocut. It encourages you to experiment with different approaches to image making and explores new ways of thinking about how linocut can be used. Nick Morley shares his experience and specialist knowledge to make this practical guide an essential companion for everyone interested in this addictive and absorbing medium.
Linocut for Artists and Designers Paperback edition by Nick Morley
Customer Reviews

5 stars
Write a review

for Buy Linocut for Artists and Designers by Nick Morley With Free Delivery
5 stars 3 customer reviews
5 stars

Oct 14, 2016
By

Hannah

Great step-by step instructions with wonderful examples to illustrate processes

4 stars

Oct 2, 2016
By

Cathie

Well illustrated !

Some good advice on how to get started with printing techniques.

Very clear instructions and with good illustration, which always helps when learning a new craft ,

Excellent book. Step by step easy to understand text.
Write a Review