Lion Rampant
: Medieval Wargaming Rules
A Paperback edition by Daniel Mersey and Mark Stacey in English (Sep 3, 2014)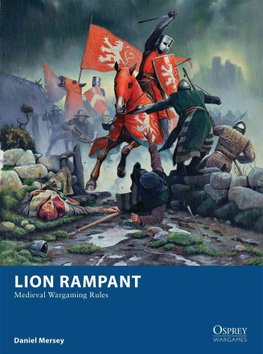 $14.72 + FREE delivery
RRP $17.95 You save $3.23 (17%)
This product will not arrive in time Christmas

FREE delivery to United States in 10-17 working days
Short Description: Lion Rampant is a set of rules designed for fighting historical or Hollywood battles in the medieval period from the Norman Conquest to the Hundred Years' War. This period is well... Read more
Product Description
Lion Rampant is a set of rules designed for fighting historical or Hollywood battles in the medieval period from the Norman Conquest to the Hundred Years' War. This period is well suited to large skirmish gaming as played with Lion Rampant as it was a time of anarchy, feuds, robbery, and raiding. Become Robin Hood, Richard the Lionheart, Gamelyn, William Wallace, Llewellyn the Last, or other legends and leaders from the colorful, dangerous medieval period.
Lion Rampant is ideal for players who wish to collect medieval miniatures without wanting to muster huge forces or spend time learning complex rules.
Gameplay is very simple, and requires the player to use units in the correct tactical way: knights are great at charging down enemies but less useful for guarding convoys, while spearmen are jacks of all trades and masters of none, and bowmen are to be feared at distance but easily cut down if you can get close enough. An army usually consists of 6-8 units comprised of 6-12 individually based figures (making it ideal for 15mm or 28mm games), and is led by a Leader, who may have some unique character traits that affect game play and provide some opportunity for role playing. The action, however, focuses very much on the small units involved in the battle rather than individual characters: each unit moves and fights independently, assuming that they follow your orders rather than just doing their own thing. Command and control is just as important on the battlefield as the power of a mounted knight.
Some army lists are provided, and guidance given for players seeking to create their own forces, but this game is not army list-heavy. The rules include a good number of scenarios, which are important to this style of gaming.
Lion Rampant Paperback edition by Daniel Mersey
Product Details
Product Specification
Author

Illustrated by

ISBN-13

9781782006350

Series

Format

Paperback,

Publishers

Publication date

Sep 3, 2014

Pages

64

Product dimensions

186 x 248 x 5mm

Weight

214g
Overview/ Understanding the basics/ Playing the game/ Army lists/ Strategies and tactics/ Sample armies/ Scenarios/ Campaigns
Categories