Made Men
: Getting the Gang Back Together
A Paperback edition by Paul Tobin and Arjuna Susini in English (Jul 26, 2018)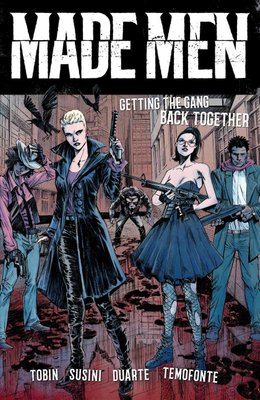 $18.74 + FREE delivery
RRP $19.99 You save $1.25 (6%)
Fewer than 10 available at this price
Get 10% off your second book with code: 10APR19 when buying 2 or more items

FREE delivery to United States in 4-8 working days

Ready To Go

This book will leave our US warehouse within 1-2 working days.
Short Description: The A-Team meets Frankenstein. ... Read more
Product Description
The A-Team meets Frankenstein.
When Jutte Shelley and her squad are gunned down in an ambush, it looks like the end for the Detroit police officers, but Jutte comes from a very storied family... named Frankenstein. Using the secrets of her ancestors, Jutte enters the family business of resurrection, bringing her squad back from the dead. Sort of. As long as you don't look too close. Eager for revenge, they've no choice but to team with the Detroit mob, using them for the resources to find the lowlifes who did them in, now that Jutte has quite literally gotten the gang back together.
Made Men Paperback edition by Paul Tobin