Marriage at the Crossroads
: Law, Policy, and the Brave New World of Twenty-First-Century Families
A Paperback edition by Marsha Garrison in English (Oct 15, 2012)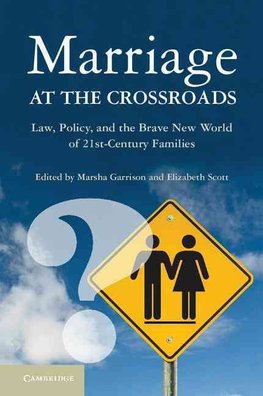 Get 10% off your second book with code: 10APR19 when buying 2 or more items

FREE delivery to United States in 10-17 working days
Short Description: The institution of marriage is at a crossroads. Across most of the industrialized world, unmarried cohabitation and nonmarital births have skyrocketed while marriage rates are at... Read more
Product Description
The institution of marriage is at a crossroads. Across most of the industrialized world, unmarried cohabitation and nonmarital births have skyrocketed while marriage rates are at record lows. These trends mask a new, idealized vision of marriage as a marker of success as well as a growing class divide in childbearing behavior: the children of better educated, wealthier individuals continue to be born into relatively stable marital unions while the children of less educated, poorer individuals are increasingly born and raised in more fragile, nonmarital households. The interdisciplinary approach offered by this edited volume provides tools to inform the debate and to assist policy makers in resolving questions about marriage at a critical juncture. Drawing on the expertise of social scientists and legal scholars, the book will be a key text for anyone who seeks to understand marriage as a social institution and to evaluate proposals for marriage reform.
Marriage at the Crossroads Paperback edition by Marsha Garrison
Product Details
Product Specification
Edited by

Edited by

ISBN-13

9781107623705

Format

Paperback,

Publisher

Publication date

Oct 15, 2012

Pages

358

Product dimensions

154 x 228 x 22mm

Weight

523g
1. Introduction Marsha Garrison and Elizabeth Scott; Part I. History, Demographics, and Economics - Multiple Perspectives on Families: 2. International family change and continuity: the past and future from the developmental idealism perspective Arland Thornton; 3. Red v. blue marriage June Carbone and Naomi Cahn; 4. The division of labor across time and generations Margaret F. Brinig; 5. Marriage at the crossroads in England and Wales Rebecca Probert; 6. The curious relationship of marriage and freedom Katherine Franke; Part II. Empirical Research on Family Change: 7. Institutional, companionate, and individualistic marriages: change over time and implications for marital quality Paul R. Amato; 8. Marriage and improved well-being: using twins to parse the correlation, asking how marriage helps, and wondering why more people do not buy a bargain Robert E. Emery, Erin Horn and Christopher Beam; 9. Fragile families: debates, facts, and solutions Sara McLanahan and Irwin Garfinkel; 10. Should marriage matter? Ira Mark Ellman and Sanford L. Braver; Part III. Family Policy and Law for the Twenty-First Century: 11. Forsaking no others: coming to terms with family diversity Judith Stacey; 12. Why marriage? Suzanne B. Goldberg; 13. Essential to virtue? The languages of the law of marriage Carl E. Schneider; 14. The pluralistic vision of marriage Shahar Lifshitz; Part IV. Comments: 15. The growing diversity of two-parent families: challenges for family law Andrew Cherlin; 16. Legal regulation of the twenty-first-century family Marsha Garrison and Elizabeth Scott.
Categories
Non-Fiction Psychology & Social Science Sociology & Anthropology Sociology Family & Relationships
Non-Fiction Business, Finance & Law Law Laws Of Specific Jurisdictions Family Law Family Law: Marriage & Divorce