Medieval English Romance in Context
A Hardback edition by Gail Ashton in English (Feb 6, 2010)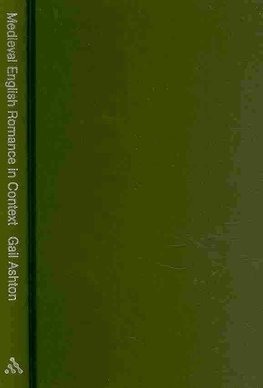 $84.59 + FREE delivery
RRP $94.00 You save $9.41 (10%)
Short Description: Medieval Romance in Context is a clear, accessible and concise introduction to medieval English verse romantic texts and their wider contexts. It begins by introducing key issues... Read more
Product Description
Medieval Romance in Context is a clear, accessible and concise introduction to medieval English verse romantic texts and their wider contexts. It begins by introducing key issues and events that impacted on romance writing and its reception such as chivalric ideals, the Black Death, wars and 'Englishness' as well as key literary issues such as medieval manuscript production and its transmission.
Close readings of key texts - including Sir Gawain and the Green Knight, Breton lays and Chaucer's The Man of Law's Tale - highlight generic features and issues like family drama, space and time, and nationhood.
The final section introduces key critical interpretations from different perspectives including gender and queer theory, and post-colonialism in medieval studies. A chapter on afterlives and adaptations explores reinterpretations of medieval romance and the Arthurian cycles in a range of popular texts and narratives from Doctor Who to Batman.
'Review, Reading and Research' sections give suggestions for further reading, discussion and research. Introducing texts, contexts and criticism, this is a lively and up-to-date resource for anyone studying Medieval Romance.
Medieval English Romance in Context Hardback edition by Gail Ashton