Microtectonics
Mixed media product by Cees W. Passchier and Rudolph A. J. Trouw in English (Aug 31, 2005)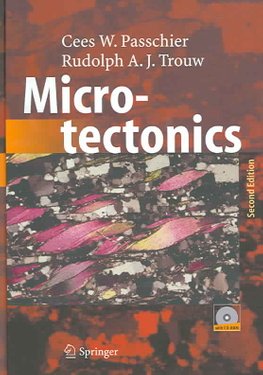 Short Description: High number of high-quality line drawings and photographs not only support the text but also give readers vaulable experience in interprating what they observe in the field.... Read more
Product Description
High number of high-quality line drawings and photographs not only support the text but also give readers vaulable experience in interprating what they observe in the field.
Newest developments in microtectonics have been included in all chapters so that al chapters have been revised and updated, e.g. new information on brittle microstructures
Microtectonics Mixed media product edition by Cees W. Passchier
Product Details
Product Specification
Author

Author

ISBN-13

9783540640035

Format

Mixed media product,

Publishers

Springer-Verlag Berlin and Heidelberg GmbH & Co. KG , Springer-Verlag Berlin and Heidelberg GmbH & Co. K

Publication date

Aug 31, 2005

Edition

Edition Number 2; Revised

Pages

366

Product dimensions

205 x 279 x 29mm

Weight

1,137g
A Framework of Microtectonic Studies.- Flow and Deformation.- Deformation Mechanisms.- Foliations, Lineations and Lattice Preferred Orientation.- Shear Zones.- Dilatation Sites - Veins, Strain Shadows, Fringes and Boudins.- Porphyroblasts and Reaction Rims.- Primary Structures.- Natural Microgauges.- Special Techniques.- Experimental Modelling Techniques.- From Sample to Section.
Categories
Non-Fiction Science & Medicine Chemistry Mineralogy & Gems
Non-Fiction Science & Medicine Earth Sciences, Geography, Environment, Planning Earth Sciences
Non-Fiction Science & Medicine Earth Sciences, Geography, Environment, Planning Earth Sciences Geology & The Lithosphere
Non-Fiction Science & Medicine Earth Sciences, Geography, Environment, Planning Earth Sciences Geology & The Lithosphere Geological Surface Processes (geomorphology)