Cambridge Companions to Management: Mindfulness in Organizations: Foundations, Research, and Applications
A Hardback edition by Jochen Reb in English (Jun 30, 2015)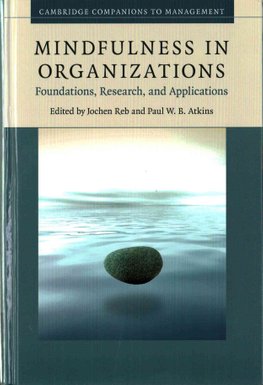 $98.87 + FREE delivery
RRP $108.00 You save $9.13 (8%)
This product will not arrive in time Christmas

FREE delivery to United States in 9-17 working days
Short Description: Mindfulness techniques, having long played an important role in contemplative traditions around the world, are now recognized as having the potential to transform workplaces. As... Read more
Product Description
Mindfulness techniques, having long played an important role in contemplative traditions around the world, are now recognized as having the potential to transform workplaces. As interest in the role of mindfulness in organizational settings continues to increase, this timely book fills a gap in the literature by providing an overview of the latest theoretical and empirical research on workplace mindfulness. It brings together world-leading scholars to explore the foundations, key discussions, diversity of approaches, and applications of mindfulness in organizations. It acts as a catalyst for future research on the topic by suggesting research directions and stimulating organizational researchers to embark on new projects involving mindfulness. Furthermore, it provides valuable ideas for implementing mindfulness programs in organizations, for teaching mindfulness in business contexts, and for coaching with mindfulness. This must-read book will appeal to researchers and professionals in the fields of organizational behavior, organizational psychology and employee well-being.
Cambridge Companions to Management: Mindfulness in Organizations: Foundations, Research, and Applications Hardback edition by Jochen Reb
Product Details
Product Specification
Edited by

Edited by

ISBN-13

9781107064805

Series

Format

Hardback,

Publisher

Publication date

Jun 30, 2015

Pages

438

Product dimensions

156 x 238 x 33mm

Weight

770g
Foreword; Preface; Part I. Foundations: 1. Introduction Jochen Reb and Paul W. B. Atkins; 2. What is mindfulness, and why should organizations care about it? Shauna L. Shapiro, Margaret C. Wang and Emily H. Peltason; 3. Mindfulness: historical and contemplative context and recent developments Michael Chaskalson and Sharon Grace Hadley; 4. Methods of mindfulness: how mindfulness is studied in the workplace Ellen Choi and Hannes Leroy; 5. Applying mindfulness in the context of work: mindfulness-based interventions Hugo J. E. M. Alberts and Ute R. Hu lsheger; Part II. Research: 6. Mindfulness, identity and work: mindfulness training creates a more flexible sense of self Paul W. B. Atkins and Robert Styles; 7. Improving decision making through mindfulness Natalia Karelaia and Jochen Reb; 8. Mindfulness and creativity in the workplace Ravi S. Kudesia; 9. How being mindful impacts individuals' work-family balance, conflict, and enrichment: a review of existing evidence, mechanisms and future directions Tammy D. Allen and E. Layne Paddock; 10. Building and maintaining better leadership relationships through mindfulness Richard E. Boyatzis; 11. Leading with mindfulness: exploring the relation of mindfulness with leadership behaviors, styles, and development Jochen Reb, Samantha Sim, Kraivin Chintakananda and Devasheesh P. Bhave; 12. Mindfulness in interpersonal negotiations: delineating the concept of mindfulness and proposing a mindful, relational self-regulation (MRSR) model Dejun Tony Kong; 13. Drawing the line: sketching out the role of visual templates in individual mindfulness and mindful organizing Christian Gartner and Christian Huber; Part III. Applications: 14. Awakening at work: introducing mindfulness into organizations Mirabai Bush; 15. Mindfulness and the inside work of management: the Executive Mind at The Peter F. Drucker School of Management Jeremy Hunter; 16. Mindfulness in coaching Liz Hall; Index.
Categories
Non-Fiction Business, Finance & Law Business & Economics Business & Management Organizational Theory & Behaviour