Modelling Radiotherapy Side Effects
: Practical Applications for Planning Optimisation
A Hardback edition by Tiziana Rancati and Claudio Fiorino in English (May 1, 2019)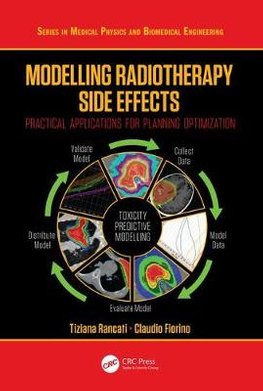 Available to pre-order.

Dispatched by May 1, 2019 with FREE delivery to United States
Short Description: "The treatment of a patient with radiation therapy is planned to find the optimal way to treat a tumor while minimizing the dose received by the surrounding normal tissues. In... Read more
Product Description
"The treatment of a patient with radiation therapy is planned to find the optimal way to treat a tumor while minimizing the dose received by the surrounding normal tissues. In order to better exploit the possibilities of this process, the availability ofaccurate and quantitative knowledge of the peculiar responses of the different tissues is of paramount importance. This book provides an invaluable tutorial for radiation oncologists, medical physicists, and dosimetrists involved in the planning optimisation phase of treatment. It presents a practical, accessible, and comprehensive summary of the field's current research and knowledge regarding the response of normal tissues to radiation. This is the first comprehensive attempt to do so since the publication of the QUANTEC guidelines in 2010"--
Modelling Radiotherapy Side Effects Hardback edition by Tiziana Rancati
Product Details
Product Specification
Author

Author

ISBN-13

9781138198098

Series

Format

Hardback,

Publishers

Publication date

May 1, 2019

Pages

472

Product dimensions

178 x 254mm
PART I: DATA AND MODELS.
The importance of the quality of data
Building a predictive model of toxicity: methods.
Potentials and limits of phenomenological models.
PART II: PREDICTING THE RISK OF TOXICITY IN PRACTICE.
Pelvis: rectal and bowel toxicity.
Pelvis: urinary toxicity and sexual dysfunctions.
Abdomen.
Optical structures and ears.
Head and neck: parotids.
Head and neck: structures involved in swallowing and nutritional problems.
Head and neck: larynx and structures involved in dysphonia.
Thorax: lungs and esophagous.
Heart and vascular problems.
Skin and fibrosis.
Bones and hematological toxicity.
Nervous system.
Predicting toxicity in RT: a critical summary.
PART III VISION/CHALLENGES.
Data-sharing and toxicity modeling: a vision of the near future.
Quantitative imaging for assessing and predicting toxicity.
Including the 4th dimension into predictive models of toxicity.
Beyond DVH: 2D/3D based dose comparison to assess predictors of toxicity.
Predictive models and automatic planning: where are we going ?
Including genetic variables in NTCP models. Where are we? Where are we going?
Categories
Non-Fiction Science & Medicine Medicine Clinical & Internal Medicine Diseases & Disorders Oncology
Non-Fiction Science & Medicine Medicine Other Branches Of Medicine Medical Imaging Radiology
Non-Fiction Science & Medicine Physics Applied Physics Medical Physics