Moksha
: Aldous Huxley's Classic Writings on Psychedelics and the Visionary Experience
A Paperback edition by Aldous Huxley in English (Apr 1, 1999)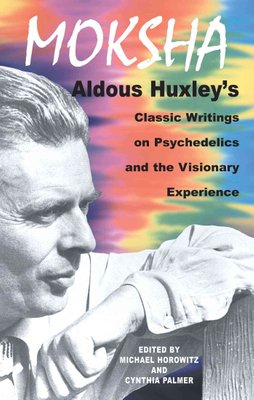 $15.13 + FREE delivery
RRP $16.95 You save $1.82 (10%)
Fewer than 10 available at this price
Short Description: Selected writings from the author of Brave New World and The Doors of Perception on the role of psychedelics in society.... Read more
Product Description
Selected writings from the author of Brave New World and The Doors of Perception on the role of psychedelics in society.
? Includes letters and lectures by Huxley never published elsewhere.
In May 1953 Aldous Huxley took four-tenths of a gram of mescaline. The mystical and transcendent experience that followed set him off on an exploration that was to produce a revolutionary body of work about the inner reaches of the human mind. Huxley was decades ahead of his time in his anticipation of the dangers modern culture was creating through explosive population increase, headlong technological advance, and militant nationalism, and he saw psychedelics as the greatest means at our disposal to "remind adults that the real world is very different from the misshapen universe they have created for themselves by means of their culture-conditioned prejudices." Much of Huxley's writings following his 1953 mescaline experiment can be seen as his attempt to reveal the power of these substances to awaken a sense of the sacred in people living in a technological society hostile to mystical revelations.
Moksha, a Sanskrit word meaning "liberation," is a collection of the prophetic and visionary writings of Aldous Huxley. It includes selections from his acclaimed novels Brave New World and Island, both of which envision societies centered around the use of psychedelics as stabilizing forces, as well as pieces from The Doors of Perception and Heaven and Hell, his famous works on consciousness expansion.
Moksha Paperback edition by Aldous Huxley
Product Details
Product Specification
Author

Edited by

Edited by

ISBN-13

9780892817580

Format

Paperback,

Publishers

Publication date

Apr 1, 1999

Pages

304

Product dimensions

139 x 203 x 32mm

Weight

302g
Foreword by Humphry Osmond
Preface by Albert Hofmann
Introduction by Alexander Shulgin
Part I: Precognition
1 1931 A Treatise on Drugs
2 1931 Wantwed, a New Pleasure
3 1932 Soma
4 1936 Propaganda and Pharmacology
5 1944 A Boundless Absence
6 1952 Downward Transcendence
Part II: Psychedelic and Visionary Experience
7 1953 Letters
8 1953 May Morning in Hollywood
9 1953 Letters
10 1954 The Door of Perception
11 1954 Letters
12 1954 The Far Continents of the Mind
13 1955 Mescaline and the "Other World"
14 1955 Letters
15 1955 Disregarded in the Darkness
16 1955 Letters
17 1956 Heaven and Hell
18 1956 Brave New World Revisited
19 1956 Letters
20 1956 History of Tension
21 1957 Letters
22 1958 Chemical Persuasion
23 1958 Letters
24 1958 Drugs That Shape Men's Minds
25 1959 Letters
26 1959 The Final Revolution
27 1960 Letters
28 1960 The Art of Fiction
29 1960 Mushroom for Lunch
30 1960 Harvard Session Report
31 1961 Letters
32 1961 London Interview
33 1961 Visionary Experience (Copenhagen)
34 1961 Exploring the Borderlands of the Mind
35 1962 Love and Work
36 1962 Letters
37 Moksha
38 Letters
39 1963 Culture and the Individual
40 1963 O Nobly Born!
Appendixes
Source Notes
Index
Categories
Non-Fiction Language & Reference Language & ELT Literature & Literary Studies Prose: Non-fiction Literary Essays
Non-Fiction Health & Lifestyle Mind, Body, Spirit Mind, Body, Spirit: Thought & Practice