Monstress Volume 1: Awakening
A Paperback edition by Marjorie Liu and Sana Takeda in English (Jul 19, 2016)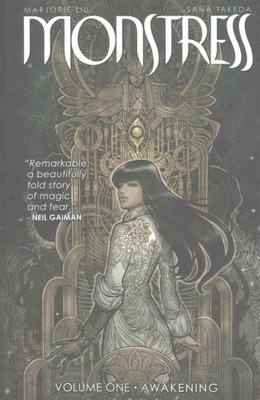 $9.44 + FREE delivery
RRP $9.99 You save $0.55 (5%)
FREE delivery to United States in 4-8 working days

Ready To Go

This book will leave our US warehouse within 1-2 working days.
Short Description: 2018 Eisner Award winner, BestWriter... Read more
Product Description
2018 Eisner Award winner, BestWriter
2018 Eisner Award winner, BestPainter/Multimedia Artist
2018 EisnerAward winner, Best Continuing Series
2018Eisner Award winner, Best Publication forTeens
2018 Eisner Award winner, Best CoverArtist
2018 Harvey Award winner, Book ofthe Year
2018 Hugo Award winner, BestGraphic Story
2018 British Fantasy Awardwinner, Best Comic/Graphic Novel
2018,2016, 2015 Entertainment Weekly's The Best Comic Books of theYear
2018, Newsweek's Best ComicBooks of the Year
2018, The WashingtonPost's 10 Best Graphic Novels of theYear
2018, Barnes & Noble's Best Booksof the Year
2018, YALSA's Great GraphicNovels for Teens
2018, Thrillist'sBest Comics & Graphic Novels of theYear
2018, Powell's Best Science-Fiction,Fantasy, Horror, and Graphic Novels of theYear
Set in an alternate matriarchal1900's Asia, in a richly imagined world of art deco-inflected steam punk,MONSTRESS tells the story of a teenage girl who is struggling to survive thetrauma of war, and who shares a mysterious psychic link with a monster oftremendous power, a connection that will transform them both and make them thetarget of both human and otherworldlypowers.
About theCreators:
New York Times bestselling andaward-winning writer Marjorie Liu is best known for her fiction and comic books.She teaches comic book writing at MIT, and leads a class on Popular Fiction atthe Voices of Our Nation (VONA) workshop. Ms. Liu's extensive work includes thebestselling "Astonishing X-Men" for Marvel Comics, which featured the gaywedding of X-Man Northstar and was subsequently nominated for a GLAAD MediaAward for outstanding media images of the lesbian, gay, bisexual and transgendercommunity. Prior to writing full-time, Liu was a lawyer. She currently residesin Boston.
Sana Takeda is an illustrator andcomic book artist who was born in Niigata, and now resides in Tokyo, Japan. Atage 20 she started out as a 3D CGI designer for SEGA, a Japanese video gamecompany, and became a freelance artist when she was 25. She is still an artist,and has worked on titles such as "X-23" and "Ms. Marvel" for Marvel Comics, andis an illustrator for trading card games in Japan.
Monstress Volume 1: Awakening Paperback edition by Marjorie Liu
Product Details
Product Specification
Author

Artist

ISBN-13

9781632157096

Series

Format

Paperback,

Publisher

Publication date

Jul 19, 2016

Pages

192

Product dimensions

169 x 258 x 11mm

Weight

422g
Categories
Fiction Science Fiction & Fantasy Sci-Fi