Monstress Volume 1: Awakening
A Paperback edition by Marjorie Liu and Sana Takeda in English (Jul 19, 2016)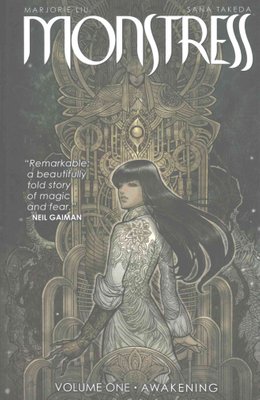 This product will not arrive in time Christmas

FREE delivery to United States in 9-14 working days
Short Description: Set in an alternate matriarchal 1900's Asia, in arichly imagined world of art deco-inflected steam punk, MONSTRESS tells thestory of a teenage girl who is struggling to survive the... Read more
Product Description
Set in an alternate matriarchal 1900's Asia, in arichly imagined world of art deco-inflected steam punk, MONSTRESS tells thestory of a teenage girl who is struggling to survive the trauma of war, and whoshares a mysterious psychic link with a monster of tremendous power, aconnection that will transform them both and make them the target of both humanand otherworldly powers.
About theCreators:
New York Times bestselling andaward-winning writer Marjorie Liu is best known for her fiction and comic books.She teaches comic book writing at MIT, and leads a class on Popular Fiction atthe Voices of Our Nation (VONA) workshop. Ms. Liu's extensive work includes thebestselling "Astonishing X-Men" for Marvel Comics, which featured the gaywedding of X-Man Northstar and was subsequently nominated for a GLAAD MediaAward for outstanding media images of the lesbian, gay, bisexual and transgendercommunity. Prior to writing full-time, Liu was a lawyer. She currently residesin Boston.
Sana Takeda is an illustrator andcomic book artist who was born in Niigata, and now resides in Tokyo, Japan. Atage 20 she started out as a 3D CGI designer for SEGA, a Japanese video gamecompany, and became a freelance artist when she was 25. She is still an artist,and has worked on titles such as "X-23" and "Ms. Marvel" for Marvel Comics, andis an illustrator for trading card games in Japan.
Monstress Volume 1: Awakening Paperback edition by Marjorie Liu
Product Details
Product Specification
Author

Artist

ISBN-13

9781632157096

Series

Format

Paperback,

Publisher

Publication date

Jul 19, 2016

Pages

192

Product dimensions

169 x 258 x 11mm

Weight

422g
Categories