Moses the Reluctant Leader
: Discipleship and Leadership Lessons
A Paperback edition by Ralph F Wilson in English (Apr 1, 2011)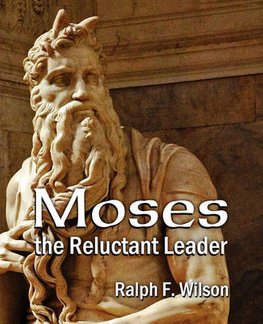 Short Description: Moses pioneered a Spirit-led leadership paradigm that Christian leaders do well to emulate today ... Read more
Product Description
Moses pioneered a Spirit-led leadership paradigm that Christian leaders do well to emulate today
Moses didn't want to be a leader. He had been raised as a prince of Egypt, but now at 80, he was content to be a simple shepherd, watching sheep on the slopes of Sinai. Then, God spoke from the burning bush and Moses' world changed.
How do you lead a multitude of people through impossible situations, badgered by a storm of criticism from within the camp, and threatened by deadly peril from without? Moses the reluctant leader has much to teach both disciples and leaders today.
This Bible study leads you through Moses' life covering several chapters in each lesson so you can see the big picture. It slows down, however, to examine key passages in Exodus and Numbers that give insight into God's instruction to Moses. One lesson surveys the tabernacle, the priesthood, and the sacrifices that God revealed through Moses.
This book explores Moses' life in 9 lessons with discussion questions, and can be used for personal enrichment, by small groups and classes, and by teachers and preachers for sermon preparation.
Moses the Reluctant Leader Paperback edition by Ralph F Wilson