Motherland
: A Natalya Ivanova Thriller
A Paperback edition by G. D. Abson (Apr 26, 2018)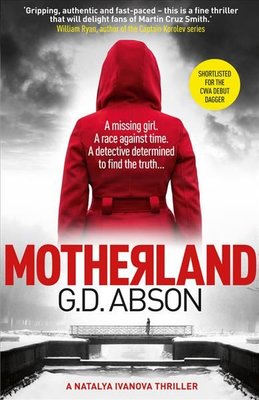 Fewer than 10 available at this price
FREE delivery to United States in 7-13 working days

Ready To Go

This book will leave our UK warehouse within 1-2 working days.

Order by 14th December for Christmas delivery to the United States
Short Description: SHORTLISTED FOR A CWA DEBUT DAGGER AWARD... Read more
Product Description
SHORTLISTED FOR A CWA DEBUT DAGGER AWARD
The first in a gripping series of crime novels set in the dark heart of Putin's Russia, featuring the sharp and intriguing policewoman, Captain Natalya Ivanova.
Student Zena Dahl, the daughter of a Swedish millionaire, has gone missing in St Petersburg (or Piter as the city is colloquially known) after a night out with a friend. Captain Natalya Ivanova is assigned the case. It makes a change for Natalya from her usual fare of domestic violence work, but, because of the family's wealth, there's pressure for a quick result. But as she investigates she discovers that the case is not as straightforward as it may seem. Dark, violent and insightful, MOTHERLAND twists and turns to a
satisfyingly dramatic conclusion.
Ideal for fans of JO NESBO, TOM ROB SMITH, DAVID YOUNG and Scandi shows dramas, like THE KILLING and THE BRIDGE.
`The dark heart of Putin's Russia beneath the glitz of St Petersburg provides the heady setting for this excellent and gripping debut. Abson, who was shortlisted for a Crime Writers' Debut Dagger for Motherland, is surely a name to watch. A Child 44 for Putin-land, this classy page-turner oozes with atmosphere.'
David Young, bestselling author of STASI CHILD and STASI WOLF
Motherland Paperback edition by G. D. Abson