My Fairytale Wedding
: Planning Your Dream Wedding Without Breaking the Bank
A Paperback edition by Desiree Hartsock in English (May 17, 2016)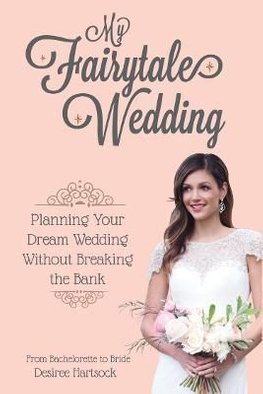 Short Description: There is no way around it, weddings are magical...and it turns out, magic comes with a steep price. But if you know me from my frugal lifestyle blog Drugstore Divas, you know I... Read more
Product Description
There is no way around it, weddings are magical...and it turns out, magic comes with a steep price. But if you know me from my frugal lifestyle blog Drugstore Divas, you know I don't pinch pennies -- I squeeze them and use some form of alchemy to turn them into dollars. And that's what I'm planning to do as I help budget your wedding. This book will help transition you from a frugal fiance to a bride on a budget. It'll be fun ... and hopefully it'll be a way to tame the bridezilla forming inside.
My Fairytale Wedding Paperback edition by Desiree Hartsock
Product Details
Product Specification
Author

Foreword by

ISBN-13

9781633533318

Format

Paperback,

Publisher

Publication date

May 17, 2016

Product dimensions

127 x 207 x 11mm

Weight

199g
Table of Contents:
INTRO:
* Who I am
* Background in the industry
* What I want to achieve
(1) SETTING THE BUDGET: (In the Beginning... There was a Budget)
* Becoming a B.O.B (Bride-On-a-Budget)
* It's all in the numbers- (How to come up with your budget)
* Prioritizing Together- (thoroughly figuring out what features of the wedding are most important to both)
* No guessing the guest list- (Creating the guest list -who and how many)
* Disagreements and their demise- ( how to communicate through this step with your fiance and throughout wedding planning)
* Setting the course - (how to keep within budget throughout the decisions)
****** Include actual budget examples and fill-in spreadsheet
(2) DATE/ VENUE / ACCOMMODATIONS: (Mark the Calendar)
* Timing is everything -(how different days and seasons can differ in price, time of day, location, etc)
* Location, location, location - (choosing a venue)
* Don't be surprised (Questions to ask your venue)
* Overnight stays (hotel costs, discounts, room blocks, and info for guests)
**** include scenarios on different venues, locations, etc
(3) INVITES/ STATIONARY: (Paper Planes)
* It's a date! (Save the Dates) (What to put on them with DIY/ budget friendly ideas)
* You're Invited! (Invitation etiquette and templates)
* Take a seat (table numbers, name cards, escort cards)
* What's for dinner? (Menus)
* Why, Thank You! (Importance of thank you cards and time frame to send out)
* Go Viral - (Personalized wedding websites for easy reference for guests)-budget friendly
(4) DRESS / ATTIRE: (Dress Dreams and Reality)
* Lady in White (finding and affording your dream dress)
* What not to do! And other cautionary advice (tips to staying in budget)
* Maids, mothers and many opinions (how to make everyone happy without compromising your wedding day/ideas)
* Bachelors and grooms (dressing the men)
* If the shoe fits... (make sure you can pay for it) (tips on accessories and finishing touches) (Something borrowed, something blue, etc)
(5) FLOWERS: (Stop and Smell the Roses)
* Handful of hues- (choosing the right bouquets)(Size, colors, flowers)
* Center it up- (reception decor centerpieces)
* Buds and Bros: Don't forget about the men! (boutonnieres)
* Family Matters (MOB, MOG, flower girls, ring bearer)
***flower charts, inspiration and shortcuts
(6) FOOD: ( Let them Eat Cake) or (Feeding Frenzy)
* This or That? (Choosing between buffet, plated dinner, or family style) show comparisons and avg costs
* To pass or not to pass - that is the question? (passing hor' d'oeuvres prior to reception- is it worth it?)
* Booze it or lose it? (bar, paid bar, open bar, options)
* Cake treats and other eats (cake comparisons and other options)
(7) DESIGN: (Decor, Design, and DIY)
* Get Inspired! (Where to find Inspiration and start getting ideas)
* Themes, styles and merry go-rounds. (defining your style of wedding and sticking to it) (definitions or photos of different themes)
* "I Do(n't)" decor - (What you (don't) need for Ceremony decor)
* Dance party round up - Reception decor ideas, necessities, waste and rentals
* DIY ideas- SO Many affordable ideas... lot's of photos or how to's.
(8) PHOTO/ VIDEO: (Picture Perfect)
* What you see is what you get... literally. (choosing the right photographer and videographer)
* Test the waters (try them out or at least research and view their work)
* Best bang for your buck (source and compare prices vs quality)
* Keepsakes and memories (don't be blindsided by the added costs for albums, printed photos, other package deals)
(9) M.I.S.C:
* `M'- Music
* `I'- Everything you need as a bride (hair, makeup, etc)
* `S'- Schedule (transportation, timeframe, etc.)
* `C' - Coordination (day of coordinator)
(10) HONEYMOON / HAPPILY EVER AFTER: (Piecing together Paradise)
* Let's be honest (is a honeymoon in your budget right now, (ideal vs reality))
* Long walks on the beach (choosing a destination- affordable ideas)
* Calendar commitment and wallet woes (avg costs -comparing locations, work schedule, post-poning can be worth it)
* What now? (What to expect after wedding/honeymoon and how to make some $ from your wedding decor and dress)
Categories
Non-Fiction Language & Reference Reference Encyclopaedias & Reference