Never Quit Drawing
A Paperback edition by Kerby Rosanes and Laura Simms in English (Sep 23, 2015)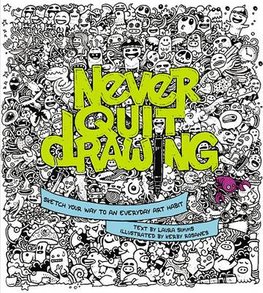 Short Description: Sketch your way to an everyday art habit with this guided sketchbook featuring the artwork of Kerby Rosanes!... Read more
Product Description
Sketch your way to an everyday art habit with this guided sketchbook featuring the artwork of Kerby Rosanes!
Every artist knows that one of the great struggles of art is to maintain constant creativity and inspiration. So how do you create the drawing habit? How do you make it a daily part of your life? How do you overcome disappointments?
The key is in developing creative habits that become a part of your artistic practice. Never Quit Drawing is an inspired call to action for artists everywhere. Each chapter offers inspiration for turning drawing techniques and skills into lasting, daily habits for the creative life.
Renowned artist Kerby Rosanes knows the high level of energy and creativity it takes to create unique and inspired artwork on a consistent basis. Daily practice is an integral part of mastering drawing and sketching. Never Quit Drawing will inspire you to commit to your art, picking up your sketching pencil and building those creative habits that will take your art to the next level.
Never Quit Drawing Paperback edition by Kerby Rosanes