Nikon D3000 For Dummies
A Paperback edition by Julie Adair King in English (Nov 13, 2009)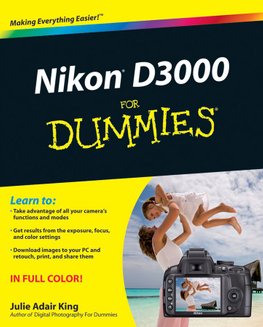 $25.63 + FREE delivery
RRP $29.99 You save $4.36 (14%)
Fewer than 10 available at this price
Short Description: Professional photography advice for D3000 beginners... Read more
Product Description
Professional photography advice for D3000 beginners
The Nikon D3000 is Nikon's new entry-level camera. With the D3000, you get all the features of Nikon's older cameras along with an updated battery, larger monitor, and improved focus features. In addition, the D3000 also offers simpler menus to help first-time DSLR users.
Assuming no prior dSLR knowledge, veteran author Julie Adair King offers you a tour of the camera body, a hands-on how-to on all the features of the D3000, and a step-by-step walkthrough of how to get the photos you want.Explains shooting in auto mode, reviews the new video option, and covers working with file size and qualityWalks you through shifting out of automatic mode and using the D3000's lighting, exposure, focus, and color featuresDemonstrates getting photos from your camera to your PC, developing an effective file system, and sharing photos via print, online, or other ways
Packed with useful tips, this helpful guide encourages you to take control of your camera.
Nikon D3000 For Dummies Paperback edition by Julie Adair King
Product Details
Product Specification
Author

ISBN-13

9780470578940

Series

Format

Paperback,

Publishers

Publication date

Nov 13, 2009

Pages

336

Product dimensions

192 x 235 x 18mm

Weight

770g
Introduction. Part I: Fast Track to Super Snaps. Chapter 1: Getting the Lay of the Land. Chapter 2: Taking Great Pictures, Automatically. Chapter 3: Controlling Picture Quality and Size. Chapter 4: Reviewing Your Photos. Part II: Taking Creative Control. Chapter 5: Getting Creative with Exposure and Lighting. Chapter 6: Manipulating Focus and Color. Chapter 7: Putting It All Together. Part III: Working with Picture Files. Chapter 8: Downloading, Organizing, and Archiving Your Picture Files. Chapter 9: Printing and Sharing Your Pictures. Part IV: The Part of Tens. Chapter 10: Ten Fun and Practical Retouch Menu Features. Chapter 11: Ten Special-Purpose Features to Explore on a Rainy Day. Index.
Categories
Non-Fiction Art, Creative & Style Photography
Non-Fiction Art, Creative & Style Photography Photographic Equipment & Techniques
Non-Fiction Computing & IT Digital Lifestyle Digital Photography: Consumer/user Guides