Oxford Reading Tree TreeTops Chucklers: Level 18: Cool Drool
A Paperback edition by Maureen Haselhurst and Dan Bramall in English (Jan 9, 2014)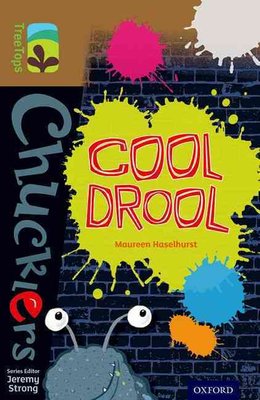 $11.05 + FREE delivery
RRP $14.00 You save $2.95 (21%)
Short Description: In Cool Drool, Baz is staying with his Aunt, an archaeologist. He finds an ancient skull and something is living inside it a slug called Sumo! This is the story of an... Read more
Product Description
In Cool Drool, Baz is staying with his Aunt, an archaeologist. He finds an ancient skull and something is living inside it a slug called Sumo! This is the story of an extraordinary slug that just happens to be a graffiti artist. When the ancient skull is stolen, can Baz and Sumo work together to get Sumo's home back?
Chucklers is a series of funny novels, short stories, anthologies and comics that make reading a pleasure for 7-11 year olds. There is something for everyone in this varied collection which is packed with fantastic illustrations.
Books contain inside cover notes to support children in their reading. Help with children's reading development also available at www.oxfordowl.co.uk.
The series is written by top children's authors and edited by award-winning author Jeremy Strong. The books are finely levelled, making it easy to match every child to the right book.
Oxford Reading Tree TreeTops Chucklers: Level 18: Cool Drool Paperback edition by Maureen Haselhurst