Patents, Registered Designs, Trade Marks and Copyright For Dummies
A Paperback edition by John Grant and Charlie Ashworth in English (Mar 28, 2008)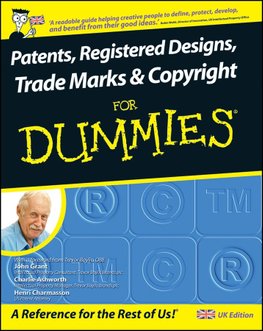 $18.07 + FREE delivery
RRP $32.99 You save $14.92 (45%)
Get 10% off your second book with code: 10APR19 when buying 2 or more items

FREE delivery to United States in 9-16 working days
Short Description: Do you have a great idea for the next big thing, an eye-catching new corporate logo, or an exciting new business concept? Understand how to safeguard your ideas and creations with... Read more
Product Description
Do you have a great idea for the next big thing, an eye-catching new corporate logo, or an exciting new business concept? Understand how to safeguard your ideas and creations with this expert guide to the fundamentals of intellectual property. Walking you step-by-step through the processes involved in protecting your great ideas, this book offers all the advice you need to ensure that you're the only one cashing in on your creativity and hard work.
Patents, Registered Designs, Trade Marks and Copyright For Dummies Paperback edition by John Grant
Product Details
Product Specification
Author

Author

Author

ISBN-13

9780470519974

Series

Format

Paperback,

Publishers

Publication date

Mar 28, 2008

Pages

362

Product dimensions

190 x 234 x 22mm

Weight

723g
Forewords. Introduction. Part I: Covering Your Assets: Intellectual Property Basics. Chapter 1: Examining the Tools in Your IP Box. Chapter 2: Protecting Your Intellectual Property. Chapter 3: Dealing with Professionals and Picking Up the Tab. Part II: Patenting Your Product. Chapter 4: Understanding Patents and How They Work. Chapter 5: Testing the Water Before You Apply for a Patent. Chapter 6: Conducting a Patent Search. Chapter 7: Preparing Your Patent Application. Chapter 8: Filing Your Patent Application. Chapter 9: Prosecuting Your Patent Application. Chapter 10: Entering the Home Stretch: Getting Your Patent Granted. Part III: Knowing Your Copyright. Chapter 11: Protecting Your Designs. Chapter 12: Entering the Whimsical World of Copyright. Chapter 13: Untangling Ownership Issues. Part IV: Making Your Mark: Protecting Your Brand Identity. Chapter 14: Solving Your Identity Crisis. Chapter 15: Creating the Next Household Name. Chapter 16: Conducting an Availability Search. Chapter 17: Establishing and Registering Your Trade Marks. Part V: Exploiting and Enforcing Your IP Rights. Chapter 18: All Abroad: Protecting Your IP Rights in Other Countries. Chapter 19: Making 'em Pay: Licensing Your IP Rights. Chapter 20: Nailing the Bad Guys (The Infringers). Part VI: The Part of Tens. Chapter 21: Ten Patent Application Pitfalls. Chapter 22: Ten Common Copyright Questions. Chapter 23: Ten Naming Blunders to Avoid. Chapter 24: Ten Great IP Resources. Appendix: Sample Patent Applications. Index.
Categories
Non-Fiction Business, Finance & Law Law, Citizenship & Rights For The Lay Person
Non-Fiction Business, Finance & Law Law Jurisprudence & General Issues
Non-Fiction Business, Finance & Law Law Laws Of Specific Jurisdictions Intellectual Property Law