Pathfinder Flip-Mat: Haunted House
Game by Jason A. Engle and Stephen Radney-MacFarland in English (Oct 3, 2017)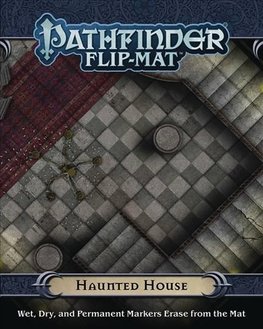 Short Description: Whether you are questing to settle the spirit of a malicious haunt, orsearching for a group of missing younglings, Pathfinder Flip-Mat: Haunted Househas you covered. The two-sides... Read more
Product Description
Whether you are questing to settle the spirit of a malicious haunt, orsearching for a group of missing younglings, Pathfinder Flip-Mat: Haunted Househas you covered. The two-sides of this Flip-Mat detail the levels of a largehaunted mansion. One side features the ground floor and the twisted grounds ofthe mansion, while the other features the upper levels, including the roof andtallest tower of the place! Don't waste your time sketching when you couldbe playing. With Pathfinder Flip-Mat: Haunted House, you'll be ready nexttime your players want to seek out forbidden lore!
This portable,affordable map measures 24" x 30" unfolded, and 8" x 10" folded. Its coatedsurface can handle any dry erase, wet erase, or even permanent marker. Usable byexperienced GMs and novices alike, Pathfinder Flip-Mats fit perfectly into anyGame Master's arsenal!
On tabletops across the world, the Flip-MatRevolution is changing the way players run their fantasy roleplaying games! Whytake the time to sketch out ugly scenery on a smudgy plastic mat when dynamicencounters and easy cleanup is just a Flip away?
"Price Includes VAT"
Pathfinder Flip-Mat: Haunted House Game edition by Jason A. Engle
Product Details
Product Specification
Author

Author

ISBN-13

9781601259745

Format

Game,

Publisher

Publication date

Oct 3, 2017

Product dimensions

207 x 254 x 6mm

Weight

188g
Categories