Pathfinder Flip-Mat Multi-Pack: Dungeons
Game by Jason A. Engle and Stephen Radney-MacFarland in English (Feb 20, 2018)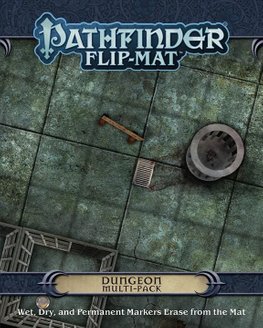 $21.05 + FREE delivery
RRP $24.99 You save $3.94 (15%)
Short Description: When you need an endless dungeon, full of foul chambers and hiding spotsfor vicious fiends, Pathfinder Flip-Mat Multi-Pack: Dungeons has you covered.The four sides of this Flip-Mat... Read more
Product Description
When you need an endless dungeon, full of foul chambers and hiding spotsfor vicious fiends, Pathfinder Flip-Mat Multi-Pack: Dungeons has you covered.The four sides of this Flip-Mat Multi-Pack present levels in an interlockingdungeon. Each side connects to the other dungeons in some way, allowing anydelve you run to last all night, and into the next morning! Don't wasteyour time sketching when you could be playing. With Pathfinder Flip-MatMulti-Pack: Dungeons, you'll be ready next time your players delve deeperand deeper!
This set includes two flip mats, each measuring 24" x 30"unfolded, and 8" x 10" folded. A Flip-Mat's coated surface can handle anydry erase, wet erase, or even permanent marker. Usable by experienced GMs andnovices alike, Pathfinder Flip-Mats fit perfectly into any Game Master'sarsenal!
On tabletops across the world, the Flip-Mat Revolution ischanging the way players run their fantasy roleplaying games! Why take the timeto sketch out ugly scenery on a smudgy plastic mat when dynamic encounters andeasy cleanup is just a Flip away?
·"Price Includes VAT"
Pathfinder Flip-Mat Multi-Pack: Dungeons Game edition by Jason A. Engle
Product Details
Product Specification
Author

Author

ISBN-13

9781640780125

Format

Game,

Publisher

Publication date

Feb 20, 2018

Pages

18

Product dimensions

207 x 254 x 9mm

Weight

342g
Categories