Peeing in Peace: Tales and Tips for Type a Moms
A Paperback edition by Beth Feldman and Yvette Manessis Corporon in English (Apr 1, 2008)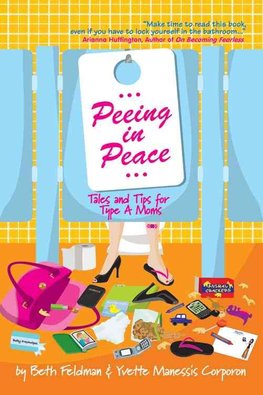 Sorry we don't currently have this.

Short Description: This is the perfect playdate for your purse.... Read more
Product Description
This is the perfect playdate for your purse.
Are you a multi-tasking mom pulled in a million directions by your precocious kids, demanding boss and starved-for-attention spouse? Do you find the only time you're able to steal a moment to yourself is behind the doors of a bathroom stall?
If so, then you are in desperate need of a playdate with Peeing in Peace.
Honest and unafraid to talk about working motherhood's dirty secrets, such as bribing, potty (mouth) training, and going to the office to relax, working moms Beth Feldman and Yvette Manessis Corporon offer community, chuckles, and co-conspirators for busy moms everywhere.
Packed with stories, tips, and even a recipe or two, Peeing in Peace will help you navigate the choppy waters of work, home, and the chaos in between. So grab a latte, enjoy the quiet, and dive in!
"A must-read for any mom who needs a little boost while trying to juggle business and babies." Barbara Corcoran, real estate mogul and author
"Peeing in Peace had me smiling from start to finish." Marg Helgenberger, CSI television star and feature film actress
"Peeing in Peace is the perfect remedy for overwhelmed moms."
-Melanie Lynne Hauser, author of Confessions of Super Mom
Peeing in Peace: Tales and Tips for Type a Moms Paperback edition by Beth Feldman