Pheromones and Animal Behavior
: Chemical Signals and Signatures
A Hardback edition by Tristram D. Wyatt in English (Jan 23, 2014)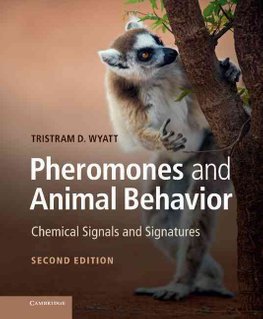 $132.11 + FREE delivery
RRP $151.00 You save $18.89 (12%)
Short Description: "Pheromones and other kinds of chemical communication underlie the behavior of all animals. Building on the strengths of the first edition, widely recognized as the leading text in... Read more
Product Description
"Pheromones and other kinds of chemical communication underlie the behavior of all animals. Building on the strengths of the first edition, widely recognized as the leading text in the subject, this is a comprehensive overview of how pheromones work"--Provided by publisher.
Pheromones and Animal Behavior Hardback edition by Tristram D. Wyatt
Product Details
Product Specification
Author

ISBN-13

9780521112901

Format

Hardback,

Publisher

Publication date

Jan 23, 2014

Edition

Edition Number 2; Revised

Pages

424

Product dimensions

189 x 246 x 23mm

Weight

1,080g
Preface; Acknowledgements; List of abbreviations; List of SI prefixes; 1. Animals in a chemical world; 2. Methods for identifying and studying semiochemicals; 3. Pheromones, chemical cues and sexual selection; 4. Coming together and keeping apart: aggregation pheromones and host-marking pheromones; 5. Territorial behavior, pheromones and signature mixtures; 6. Pheromones and social organization; 7. Pheromones and recruitment communication; 8. Fight or flight: alarm pheromones and cues; 9. Perception and response to chemical communication: from chemosensory receptors to brains, behavior and development; 10. Finding the source: pheromones and orientation behavior; 11. Breaking the code: illicit signalers and receivers of semiochemicals; 12. Using semiochemicals: applications of pheromones and signature mixtures; 13. On the scent of human attraction: human pheromones?; Appendix. An introduction to some chemical terms for non-chemists; References; Index.
Categories
Non-Fiction Science & Medicine Biology, Life Sciences Zoology & Animal Sciences
Non-Fiction Science & Medicine Biology, Life Sciences Zoology & Animal Sciences Animal Physiology
Non-Fiction Science & Medicine Biology, Life Sciences Zoology & Animal Sciences Animal Behaviour