Pierre Bonnard
: The Colour of Memory
A Paperback edition by Matthew Gale in English (Jan 15, 2019)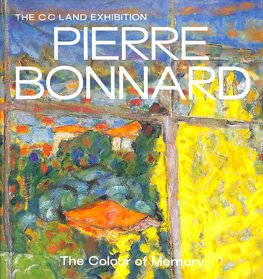 $28.42 + FREE delivery
RRP $32.78 You save $4.36 (13%)
Get 10% off your second book with code: 10APR19 when buying 2 or more items

FREE delivery to United States in 6-12 working days

Ready To Go

This book will leave our UK warehouse within 1-2 working days.
Short Description: Pierre Bonnard (1867-1947) was one of a generation of artists that... Read more
Product Description
Pierre Bonnard (1867-1947) was one of a generation of artists that
helped transform painting during the first half of the twentieth century.
As a painter, he preferred to work from memory - imaginatively
capturing the spirit of a moment and expressing it through his unique
handling of colour and unconventional choice of composition.
Focusing on Bonnard's work from 1912-47, this book presents a
variety of landscapes and intimate domestic scenes which capture
the passage of time. These works are the artist's memories creatively
reconstructed to convey a sense of sensuality or melancholy. As well
as looking at his processes, his reliance on photography and his ability
to work on different subjects side-by-side, this book relocates Bonnard
in the turbulent history of his times. Although modest and withdrawn,
he was a subtle witness to events - both in the wider world and his
more intimate circle - that can be seen to define the ways in which he
thought about and made his very personal art.
Channelling to the heart of Bonnard's position as an artist who
maintained continuities with the past while developing an individual
expression of his engagement with the world, this sumptuously
illustrated book reveals Bonnard's transition from great colourist
to Modernist master, and emphasises his place within the story of
twentieth-century art.
Pierre Bonnard Paperback edition by Matthew Gale
Product Details
Product Specification
Edited by

ISBN-13

9781849766166

Format

Paperback,

Publisher

Publication date

Jan 15, 2019

Pages

240

Product dimensions

231 x 252 x 23mm

Weight

1,286g
Categories