Piketty's Capital in the Twenty-First Century
A Paperback edition by Edward Fullbrook in English (Nov 24, 2014)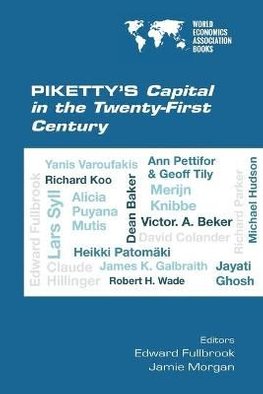 Short Description: Thomas Piketty's book Capital in the 21st Century has already attracted more serious attention than any economics book published in the last seventy-five years. This collection of... Read more
Product Description
Thomas Piketty's book Capital in the 21st Century has already attracted more serious attention than any economics book published in the last seventy-five years. This collection of 17 essays by some of the world's most prominent economists explores Piketty's book at depth and from various vantage points. Here is what economists around the world are already saying about this book.
"Marx's Capital is strong on theory but, it detractors allege, weak on data. In a dialectic worthy of Hegel himself, the critics assembled here argue that Piketty's Capital stands opposite to Marx's, as strong on data but weak on theory. This combination--plus its exquisite timing--explains it critical acclaim. The juxtaposition of economic stagnation and obscene inequality in the aftermath of the financial crisis made it impossible for mainstream economists to continue ignoring inequality, let alone applauding it as they have done for so long. Piketty made it possible for them to acknowledge it without abandoning their comforting but false mainstream theories of capitalism. These authors in this volume applaud Piketty for his contribution to empirical knowledge, but reject his views on how this inequality came about. The true Capital for the 21st century is still yet to be written."
- Steve Keen, Kingston University, London
"Neoclassical economics spawned a utopian belief in capitalism with unregulated market forces. Thomas Piketty's empirical analysis has dealt a fatal blow to that belief by highlighting the recent huge redistributions of income and wealth to the ultra-rich. This raises a fundamental question for people around the world: How do we achieve a better world through economic policies? This global collection addresses that question and explores theoretical explanations for Piketty's empirical findings."
- Ping Chen, Fudan University and Peking University, China
"Are the theoretical explanations proposed by Thomas Piketty of the rising inequalities valid? What is the meaning of his first and second "laws" of capitalism? This book is indispensable for anyone seeking answers to these questions."
- Andr
Piketty's Capital in the Twenty-First Century Paperback edition by Edward Fullbrook