Plate Tectonics
: Continental Drift and Mountain Building
A Hardback edition by Wolfgang Frisch and Martin Meschede in English (Nov 24, 2010)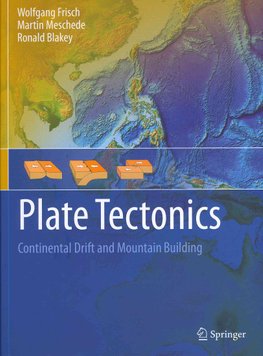 Short Description: How are mountains formed? Why are there old and young mountains? Why do the shapes of South America and Africa fit so well together? Why is the Pacific surrounded by a ring of... Read more
Product Description
How are mountains formed? Why are there old and young mountains? Why do the shapes of South America and Africa fit so well together? Why is the Pacific surrounded by a ring of volcanoes and earthquake prone areas while the edges of the Atlantic are relatively peaceful?
Frisch and Meschede and Blakey answer all these questions and more through the presentation and explanation of the geo-dynamic processes upon which the theory of continental drift is based and which have lead to the concept of plate tectonics.
Plate Tectonics Hardback edition by Wolfgang Frisch
Product Details
Product Specification
Author

Author

Author

ISBN-13

9783540765035

Format

Hardback,

Publishers

Springer-Verlag Berlin and Heidelberg GmbH & Co. KG , Springer-Verlag Berlin and Heidelberg GmbH & Co. K

Publication date

Nov 24, 2010

Edition

2011 ed.

Pages

212

Product dimensions

218 x 288 x 19mm

Weight

798g
1. Contractional theory, continental drift and plate tectonics,- 2 Plate movements and their geometric relationships,- 3. Continental graben structures,- 4. Passive continental margins and abyssal plains,- 5. Mid-ocean ridges,- 6. Hot spots,- 7. Subduction zones, island arcs and active continental maragins,- 8. Transform faults,- 9. Terranes,- 10. Early Precambrian plate tectonics,- 11. Plate tectonics and mountain building,- 12. Old orogens,- 13. Young orogens - the Earth's loftiest places.
Categories
Non-Fiction Science & Medicine Astronomy, Space & Time Solar System: The Sun & Planets
Non-Fiction Science & Medicine Earth Sciences, Geography, Environment, Planning Earth Sciences Geology & The Lithosphere
Non-Fiction Science & Medicine Earth Sciences, Geography, Environment, Planning Earth Sciences Geology & The Lithosphere Geological Surface Processes (geomorphology)
Non-Fiction Science & Medicine Earth Sciences, Geography, Environment, Planning Earth Sciences Geology & The Lithosphere Historical Geology