Pluralist Economics
A Paperback edition by Edward Fullbrook in English (Nov 15, 2008)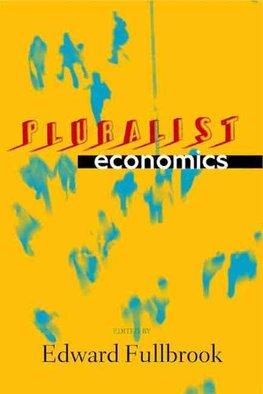 Short Description: This book is an authoritative and accessible guide to the pluralist movement threatening to revolutionize mainstream economics. Leading figures in the field explain why pluralism... Read more
Product Description
This book is an authoritative and accessible guide to the pluralist movement threatening to revolutionize mainstream economics. Leading figures in the field explain why pluralism is a required virtue in economics, how it came to be blocked and what it means for the way we think about, research and teach economics. The first part of the book looks at how neoclassical economics gained its stranglehold, particularly in the United States, and how the social and intellectual underpinnings of economics have enabled it to maintain this in the face of inconsistent evidence from the real world. This is then contrasted with different approaches to pluralism.Pluralist Economics then goes on to address the array of arguments for establishing pluralism, showing how economics came to function as a concealed ideology and not as a science, and how value-free economics is an illusion. Finally, it addresses the practical problems presented by this different way of doing economics.
Pluralist Economics Paperback edition by Edward Fullbrook
Product Details
Product Specification
Edited by

Contributions by

Contributions by

Contributions by

Contributions by

Contributions by

Contributions by

Contributions by

Contributions by

Contributions by

ISBN-13

9781848130449

Format

Paperback,

Publisher

Publication date

Nov 15, 2008

Pages

256

Product dimensions

156 x 231 x 19mm

Weight

401g
Notes on Contributors
Introduction - Edward Fullbrook
Part I: What is Pluralism?
1. Neoclassical Economics: Three Identifying Features - Christian Arnsperger and Yanis Varoufakis
2. Pluralism, Formalism and American Economics - Harry Landreth and David Colander
3. The Construction of Economics - Kyle Siler
4. Paradigms and Pluralism - Robert F. Garnett, Jr.
Part II: Arguments for Pluralism
5. Narrative Pluralism - Edward Fullbrook
6. Three Arguments for Pluralism - J. E. King
7. Economics as Ideology - Peter Soederbaum
8. Metaphor and Pluralism - Geoffrey Hodgson
9. Explanatory Pluralism - Jeroen van Bouwel
Part III: Pluralist Practice in Economics
10. Beyond Talking the Talk - Andrew Kliman and Alan Freeman
11. In the Economics Classroom - Peter Earl
12. Some Practical Aspects - Thomas Mayer
13. Islamic Economics: A Case Study - Mohamed Aslam Haneef
Notes
References
Index
Categories
Non-Fiction Business, Finance & Law Business & Economics Economics
Non-Fiction Business, Finance & Law Business & Economics Economics Economic Theory & Philosophy