Politics in the Developing World
A Paperback edition by Peter Burnell in English (Mar 30, 2017)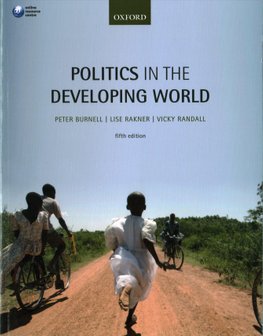 $54.30 + FREE delivery
RRP $66.95 You save $12.65 (18%)
FREE delivery to United States in 6-12 working days

Ready To Go

This book will leave our UK warehouse within 1-2 working days.

Order by 14th December for Christmas delivery to the United States
Short Description: An impressive line-up of international contributors provides a comprehensive and accessible introduction to politics in the developing world. The first four parts explore the... Read more
Product Description
An impressive line-up of international contributors provides a comprehensive and accessible introduction to politics in the developing world. The first four parts explore the theoretical approaches, the changing nature and role of the state, and the major policy issues that confront all developing countries. The final parts set out a diverse range of country case studies, representing all the main geographical regions. These country case studies illustrate the themes
introduced in the thematic chapters and highlight the developing world as a place of diversity and rapid transformations. Readers are provided with the tools to appreciate the perspectives of developing countries.
The fifth edition has been thoroughly updated to address topical issues and themes, including refugee movements; the rise of the so-called Islamic State; organised crime; gender; the role of new forms of communication in political mobilization; and the replacement of Millennium Development Goals by Sustainable Development Goals. Two new country case studies have been added: Syria and the Sudan.
The text is supported by an Online Resource Centre with the following student resources:
Additional country case studies to encourage students to consider the political situations in different developing countries
A flashcard glossary to allow students to test their knowledge of important concepts
Study questions encourage readers to think critically about each chapter
Web links encourage students to go beyond the textbook and read more widely.
Politics in the Developing World Paperback edition by Peter Burnell