Primary Science: Teaching Theory and Practice
A Paperback edition by John Sharp and Graham A. Peacock in English (Jun 14, 2017)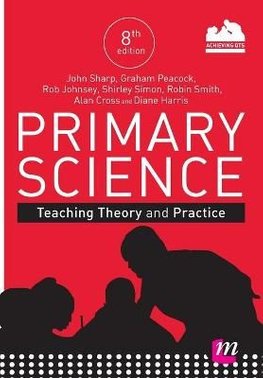 FREE delivery to United States in 6-12 working days

Ready To Go

This book will leave our UK warehouse within 1-2 working days.
Short Description: Now with online resources to support teaching practice!... Read more
Product Description
Now with online resources to support teaching practice!
An extensive knowledge of the primary science curriculum is not enough for trainee teachers, they need to know how to teach science in the primary classroom.
This is the essential teaching theory and practice text for primary science that takes a focused look at the practical aspects of teaching. It covers the important skills of classroom management, planning, monitoring, and assessment and relates these specifically to primary science, with new material on assessment without levels. New coverage on being a scientist is included to help readers understand how science teaching goes far beyond the curriculum, whilst practical guidance and features support trainees to translate their learning to the classroom. And to support students even further with the very latest strategies in classroom practice, this Eighth Edition now includes the following online resources on the new companion website:
Practical lesson ideas for the classroom The Primary National Curriculum for science in Key Stages one and two Tips for planning primary science Useful web links for primary science teachingUsing this new edition with the supporting online material makes it an essential guide to effective and creative science teaching.
Primary Science: Teaching Theory and Practice Paperback edition by John Sharp