Project X CODE Extra: Light Blue Book Band, Oxford Level 4: Dragon Quest: Trapped in the Tower
A Paperback edition by Jan Burchett and Sara Vogler in English (Mar 21, 2016)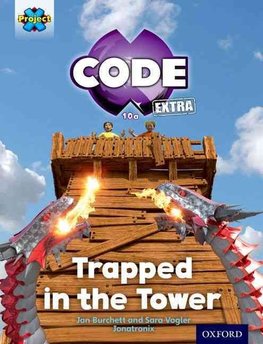 $7.84 + FREE delivery
RRP $9.50 You save $1.66 (17%)
Get 10% off your second book with code: 10APR19 when buying 2 or more items

FREE delivery to United States in 10-17 working days
Short Description: Project X CODE Extra introduces more exciting adventure stories and stimulating non-fiction texts into the Project X CODE series. ... Read more
Product Description
Project X CODE Extra introduces more exciting adventure stories and stimulating non-fiction texts into the Project X CODE series.
In this adventure in the Dragon Quest zone, Cat and Tiger find themselves trapped in a tower. With the angry BITE below them, how will they escape?
In line with the phonic, vocabulary and comprehension progression in Project X CODE, this book is ideal for additional practice outside of the core intervention sessions and for children who simply want to read more of the CODE adventure!
Project X CODE Extra: Light Blue Book Band, Oxford Level 4: Dragon Quest: Trapped in the Tower Paperback edition by Jan Burchett