Pugs on Rugs
A Hardback edition (Aug 11, 2016)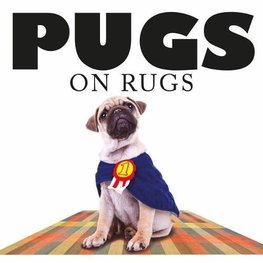 This product will not arrive in time Christmas

FREE delivery to United States in 12-20 working days
Short Description: What makes pugs so loveable? Their doleful eyes? Downturned mouths? Furrowed brows? Sad they may look, but they've found their place in the home - on rugs. Pugs and rugs go... Read more
Product Description
What makes pugs so loveable? Their doleful eyes? Downturned mouths? Furrowed brows? Sad they may look, but they've found their place in the home - on rugs. Pugs and rugs go together like gin and tonic, tomato and basil, Cagney and Lacey.
Pugs on Rugs celebrates 45 different pugs on wholly different rugs. The dog might be walking, sitting, sleeping; the rug could be Persian, Aztec, oriental; the image will be cute and funny or funny and cute or cute/funny.
Each spread features a photograph or photomontage with an amusing caption and also a paragraph of serious, informative text on pugs - their history, their characteristics, their breed.
From bullish pugs to pitiful pugs to pugs who think they're on a flying carpet (but find out that it's fitted), Pugs on Rugs is a fun book of 45 images of the snuggest pugs on rugs that you've ever seen.
Pugs on Rugs Hardback edition by
Product Details
Product Specification
ISBN-13

9781782744313

Format

Hardback, Laminated cover

Publisher

Publication date

Aug 11, 2016

Pages

96

Product dimensions

157 x 160 x 13mm

Weight

198g
Try Aisle K-9
Puggy Pinkmentation
Pugkin Pie
Weight Watching
Party Poocher
A Bird? A Plane? No, Superpug!
Mother of Pearl!
Unyappy Pug
The Queen's Pug
Pug Daddy
Dicing with Dogs
On the Catwalk
Shaggy Dog Story
Pugnacious
Lapdogs of Luxury
In Stitches
Smug Pugs
Pug de Deux
Won't Travel by Greyhound
Take a Bow-Wow
Dog-Tired at the Office
Canine Chic
Dogtor's Orders
Pugolstery
Dog's Dinner
Paw Pug
Pug Out, Starboard Home
Doggy Bag
Purrfect Pillow
Just Don't Call Me "Petal."
Snug Pug
Pug Shot
Laptop Dog
Faux Fur Elise
Pugs of War
Dogged Defender
The Usual Pugspects
Santa's Little Helper
Just Big-Boned
Dressed for Dinner
Dog Whispering
Doggerel for Dogs
Pug-Nosed Reindeer
Birdbrained
Three Dog Night
Categories
Non-Fiction Art, Creative & Style Photography Photographs: Collections