Q And A A Day
A Hardback edition by Potter Style in English (Jan 11, 2011)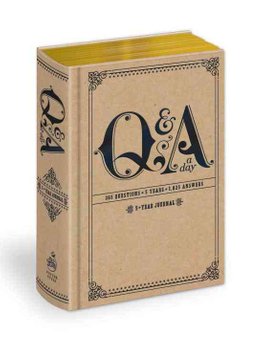 FREE delivery to United States in 6-12 working days

Ready To Go

This book will leave our UK warehouse within 1-2 working days.
Short Description: Do you ever stop to wonder how you got where you are? ... Read more
Product Description
Do you ever stop to wonder how you got where you are?
The Q&A a Day Journal shows you what was going through your head each day?for five years of your life. Simply turn to today's date, answer the question at the top of the page, and when you finish the journal, start over. As you return to the daily questions again over the years, you'll notice how your answers change, or don't!
With questions that are sometimes provocative ("On a scale of one to ten, how happy are you?"), occasionally quirky ("What can you smell right now?"), and inevitably interesting ("If you could travel anywhere tomorrow, where would you go?"), this classically designed journal?embellished with beautiful details?is the perfect gift for anyone embarking on a new phase of life.
365 questions. 5 years. 1,825 answers.
Q And A A Day Hardback edition by Potter Style
Product Details
Product Specification
Author

ISBN-13

9780307719775

Format

Hardback,

Publishers

Publication date

Jan 11, 2011

Pages

368

Product dimensions

111 x 160 x 33mm

Weight

408g
Categories
Customer Reviews

4 stars
Write a review

for Buy Q And A A Day by Potter Style With Free Delivery
4 stars 4 customer reviews
4 stars

Aug 29, 2016
By

Guest

Love it!!

Absolutely lovely little book, definitely going to be a few friends presents this Christmas!

5 stars

Jan 12, 2016
By

Megan

(1)
United Kingdom

Cute!

Not what I expected to be honest but I can't fault it. There's different questions from future aspirations to simple things like your daily tasks. Definitely a cute, handy book I look forward to reading in so many years to see how much I changed.

Q&A

It is a great product! I like it.
Write a Review