Raptor Medicine, Surgery, and Rehabilitation
A Hardback edition by David Scott in English (Sep 2, 2016)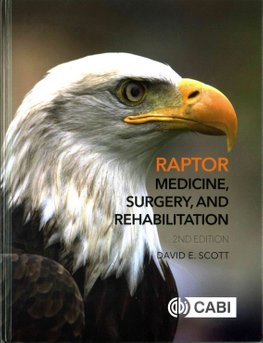 $104.74 + FREE delivery
RRP $165.00 You save $60.26 (36%)
Short Description: Comprehensive, intensely practical, and extensively illustrated, this unique book consolidates years of practical knowledge of dealing with injured birds of prey. Written by a... Read more
Product Description
Comprehensive, intensely practical, and extensively illustrated, this unique book consolidates years of practical knowledge of dealing with injured birds of prey. Written by a practicing veterinarian, it:
* concisely covers helpful, day-to-day advice through hints, tips, and clinical insights
* provides an emphasis on practical procedures
* includes numerous illustrations for easy recognition of symptoms and replication of techniques.
Outlining everything from handling and the intake examination to practical procedures and the treatment of a comprehensive range of conditions and injuries, the book also advises readers on housing, rehabilitation, and eventual release. With numerous rapid reference charts, this book is the one text that any avian or general veterinarian needs by the bench for the treatment of raptors and birds of prey.
Raptor Medicine, Surgery, and Rehabilitation Hardback edition by David Scott
Product Details
Product Specification
Author

ISBN-13

9781780647463

Format

Hardback,

Publisher

Publication date

Sep 2, 2016

Pages

344

Product dimensions

191 x 254 x 29mm

Weight

1,128g
1: Handling and Physical Examination
2: Anatomy and Physiology
3: Species Overview
4: Fluid Therapy and Treatments
5: Ophthalmology
6: Infectious Diseases
7: Miscellaneous Conditions
8: Anesthesia
9: Soft Tissue Surgery
10: Orthopedics
11: Endoscopy
12: Orphans
13: Feathers and Aging
14: Clinical Pathology
15: Housing and Husbandry
16: Capturing Trapped Birds
17: Time for Release!
Appendix: A: Feeding Guide
Appendix: B: Formulary
Appendix: C: Anesthetic Record
Appendix: D: Wrapper Patterns
Appendix: E: Laws and Regulations
Appendix: F: Body Weights during Development
Appendix: G: Resources
Categories
Non-Fiction Science & Medicine Medicine Veterinary Medicine Veterinary Medicine: Exotic & Zoo Animals
Non-Fiction Science & Medicine Medicine Veterinary Medicine Veterinary Surgery