Recueil des cours, Collected Courses, Tome/Volume 281 (1999)
A Hardback edition by Academie de Droit International de la Haye in English and Spanish (Apr 1, 2001)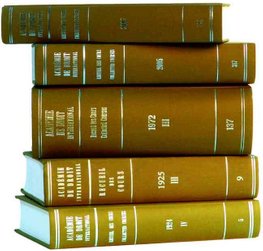 Short Description: The Academy is an institution for the study and teaching of public and private international law and related subjects. Its purpose is to encourage a thorough and impartial... Read more
Product Description
The Academy is an institution for the study and teaching of public and private international law and related subjects. Its purpose is to encourage a thorough and impartial examination of the problems arising from international relations in the field of law. The courses deal with the theoretical and practical aspects of the subject, including legislation and case law. All courses at the Academy are, in principle, published in the language in which they were delivered in the Collected Courses of the Hague Academy of International Law. This volume contains: Since the end of the Second World War, cross-border relations among nations have intensified on a large scale, and, in addition to international peace and security, many other problems have arisen that possess worldwide dimensions. However, international law is still predicated on the basic rule of national sovereignty. Given this discrepancy, humankind is called upon to establish a system of international governance that is able to deal effectively with all the challenges that threaten its survival as a civilized community of nations. Practice is already evolving in that direction.
Product Details
Product Specification
Author

ISBN-13

9789041114884

Series

Format

Hardback, Laminated cover

Publisher

Publication date

Apr 1, 2001

Pages

440

Product dimensions

152 x 242 x 38mm

Weight

748g
Contents: C. Tomuschat
Introduction.
Part I: Constitutive Elements of the Present-Day International Legal Order.
I. The Existence and Foundations of the International Legal Order.
II. The Growing Complexity of the International Legal Order.
III. The State.
IV. Other Subjects of International Law.
Part II: The Founding Principles of the International Legal Order.
V. Sovereign Equality.
VI. Non-Use of Force and Non-Intervention.
VII. Self-Determination and International Solidarity.
VIII. International Responsibility and Liability.
Part Ill: The Main Functions of Governance. IX. The Legislative Function.
X. The Executive Function.
XI. Settlement of Disputes.
Concluding Observations.
Bibliography.
Categories