Reviews of: Everything, Everything
5 stars 9 customer reviews
Best book i´ve read this year

definitely one of the best books i´ve read , please if you haven´t read this book , buy it right now , you will fall in love with Madeline and Olly , love them forever !!!!!!!!!!!!!!

1 person found this helpful

5 stars

Apr 18, 2017
By Marisa (1)
Australia

Everything, Everything by Nicola Yoon

This book is beautiful. It really just inspires the reader to live life to the fullest. Maddy and Olly's story is so sweet! I loved Maddy's journal notes, book opinions and definitions. The characters are quite complex and you learn so much about them. I can't wait for the movie!

5 stars

May 3, 2017
By Kirby

Superb

I absolutely adored this book. I do not read often but I couldn't stop reading this book. I loved how it was an unusual and conventional love story that didn't seem too childish for an adult reader. You could relate to both the characters and that made it even more special. A great job by the Yoons!

Everything, Everything

Beautifully written, a twist on your average love story and now I can't wait for the movie!! This book has given me new eyes to look at the world from

5 stars

Jan 11, 2016
By saira (4)
United Kingdom

This book is EVERYTHING

I've seen some people point out the flaws in this story but i think its ridiculous to point out only the flaws and ignore all the great things about this book. I think the greatest sign of a story is that it makes you feel something and this story does that again and again.

The Best Thing To Happen To Contemporary YA

Very rarely, there comes one of these books that change your world. Very rarely, there are these books that you can devour in one sitting, and yet have it remain in your thoughts for days to come.

Madeline Whittier hasn't left her house in seventeen years. She lives in a world with everything white. White walls, white couches, while clothes. She stares out of her window, spends her days with her nurse, mom and her books and takes classes online.

She doesn't think about what she will be when she grows up or when she'll find true love, because her disease means she needs to stay in her bubble. Forever.

And she was okay with that until the boy in black that moved in next door. The boy who entered his house with a cartwheel, the boy who invaded her thoughts. Olly.

Oliver Bright writes on her window, forgetting that it's opposite to her on the other side, he has problems with capital letters and proper punctuation and loves putting his body in acrobatic positions. From a broken home, he sees the girl in the Window, the one only half real, and decides he wants to know her.

After all, when you see what the world has to offer, how can you now want it?

Honestly, I didn't expect to fall so in love with this, but I did. Maddy was such a beautiful narrator, an ordinary teenage girl, locked in her tower, trying to find the courage to leave. She was real and afraid and ready and awkward and pretty much everything. The Oliver-Maddy chemistry was such a living, huggable thing that I just wanted it all.

The only thing I didn't understand was HOW Maddy got a credit card without her omnipresent mom noticing. After all, whose bank account did she use as her credit source?

Everything, Everything is about learning to live and love when you could die doing either of them.

The BEST thing to happen to contemporary YA for a while.

This was so lovely, wild and heartbreaking!

Originally posted on my blog LOVELYOWLSBOOKS

I finished this book a few hours ago and the review was writing itself in my head but now that I'm supposed to type it, I can't.

This book follows a girl called Maddy who is allergic to the world and everything. She hasn't stepped foot outside the house in 17 years. She's lived a simple, basic and a routine life until a new family moves in next door and she meets Olly.

Maddy goes on this journey of self discovery, she's learning about the world and meeting Olly is an entirely new experience. This book is beautifully written and thought out. I read it with ease especially since I'm very picky about contemporaries. It's got to be done well for me to enjoy a YA contemporary because there's either heavy triggering topics, teens way too wise to be believable and the vague endings giving me no closure.

But with Everything, Everything, even though it had some of those elements; I loved it so much because Maddy was so curious. Her condition was constant but she had wanderlust and Olly opened up a new world for her she'd never experienced. It had the perfect components for me to thoroughly enjoy this book and the romance in this was so lovely, wild and heartbreaking.

Nicola Yoon's stories intrigue me with one line. After watching countless BEA videos, someone said her new book, The Sun is Also a Star is about a girl who falls in love with a boy the day she's going to be deported back to Jamaica. I mean, that pulled me in right away. It just took one line and I was adding it to my wishlist. I need to read this book as soon as it's out!

I don't know what determines I'll like a contemporary but Nicola Yoon nailed it and this book blew me away. It's beautiful, new and a wondrous read. You'll fall in love with it and cry along too. I highly recommend this book. Also, I've never read a book in this format or any format other than the standard. The story is also told emails, charts, drawings, dictionary definitions. This book is stunning in every way possible.

I was cheated by the final twist. The premise didn't deliver..

I think I might be outgrowing a certain type of books. Better yet, I think I might be becoming more critical. Even though I still let a story sweep me off my feet and relax while enjoying the ride, in the end I look from a distance to what I've read and try to analyze what the book has giving me, what was its message, whether it changed me a bit or left me just the same, what I would have done had I been in some characters' shoes.

That being said, I once again happen to be the black sheep. I'm getting pretty much used to it, thus no surprise there.

The hype sorrounding this novel is remarkable, whatever reader has had the chance of reading an ARC of it has loved it, yet I can't help but feeling cheated, with this bittersweet aftertaste that won't leave me.

What deeply bothers me is how much I was loving this book. I was truly, immensely loving this book. The author did an outstanding job at projecting on us readers the emotinal chaos Maddie was experiencing for the first time. Maddie and Olly were adorkable.

The emails, maps and drawings made by Nicola Yoon's husband enriched the story making it smooth and peculiar, unique in its own genre; I flew through it.

More than anything, though, I loved its message. How many tiny little things, such as outside noises or the feel of the wind on our skin, do we take for granted every day? How many times do we plan our future, dream about it and live it when the time comes but we forget about the building up to it, the "meantime" of our days that pass us by without realizing we are wasting our own precious time? Carpe diem. Live your life to the fullest. There's a huge difference between being alive and live.

Up to 80% of this book, I was as happy as I could be. Then that twist came and it all went to hell.

I can't say it. I can't say why I hated this book, if I want to keep you away from spoilers. All I can tell you is that this book had promised to give me something but it was a lie. I feel cheated, a fraud. And I feel helpless towards some things that I won't be able to know, and I'm left wondering.

I wish I could say more, I wish I could give this book more,but if I did it wouldn't feel right and I wouldn't be at peace with my mind and conscience.

Despite its premise, I can't help but feel hopelessness, a terrible void in my heart that I can't quite fill, for I wouldn't know with what or what would help.

The author took the easy way out and I just can't accept it. I'm sorry.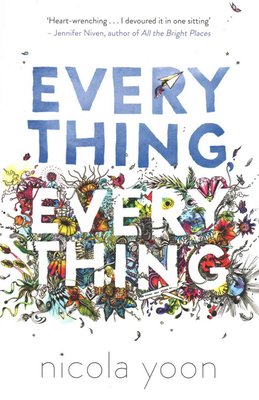 Everything, Everything
(English, Paperback)
Nicola Yoon
So allergic, in fact, that she has never left the house in all of her seventeen years. But when Olly moves in next door, and wants to talk to Maddy, tiny holes start to appear in the protective bubble her mother has built around her. Olly writes his IM address on a piece of paper, shows it at her window, and suddenly, a door opens.
Currently Unavailable
More details