Ronan Boyle and the Bridge of Riddles (Ronan Boyle #1) (UK Editio
: UK Edition
A Paperback edition by Thomas Lennon and John Hendrix in English (Mar 5, 2019)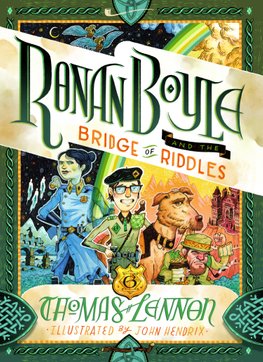 FREE delivery to United States in 6-12 working days

Ready To Go

This book will leave our UK warehouse within 1-2 working days.
Short Description: Fourteen-year-old Ronan Boyle is the youngest and lowliest... Read more
Product Description
Fourteen-year-old Ronan Boyle is the youngest and lowliest
recruit to the secret Garda, an Irish police force that handles the misdeeds of
numerous magical creatures. Ronan's parents are in jail, but Ronan is convinced
that they were framed by the wee people. So, despite his small size, poor
eyesight, and social awkwardness, he's determined to learn all he can in the
Garda in order to prove his parents' innocence. To show he's got what it takes,
he'll have to confront a fiery leprechaun, a sinister harpy, and a whole world
of monsters hidden in plain sight next to real-life Ireland. Fast paced, action
packed, and completely hilarious, this is the start to an exciting new
middle-grade series by actor and writer Thomas Lennon.
PRAISE
"Perhaps the finest young adult novel of all time (in
the ever-burgeoning leprechaun crime-drama sub-genre). Equal parts JK Rowling
and Douglas Adams, which, y'know... ain't a bad thing."
- "Weird Al" Yankovic
"A touching, funny read for smart kids young and old.
Flat-out laughed out loud!"
- Patton Oswalt
"Actor/screenwriter Lennon (the Night at the Museum
series) makes a spirited debut with this mythology-laden tale . . . the
memorable voice and playful sensibility make this an entertaining series
opener."
- Publishers Weekly
"As flavorful as the strongest Irish stout."
- Kirkus Reviews
Ronan Boyle and the Bridge of Riddles (Ronan Boyle #1) (UK Editio Paperback edition by Thomas Lennon