Sekret Machines Book 1: Chasing Shadows
A Paperback edition by Tom J. Delonge and A. J. Hartley in English (Feb 28, 2017)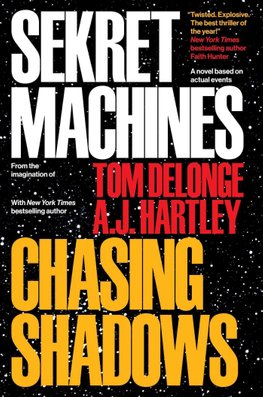 Short Description: Praised as "an exhilarating thrill ride" that may never have you looking at the night sky the same way again, Chasing Shadows is the first book in the multimedia Sekret Machines... Read more
Product Description
Praised as "an exhilarating thrill ride" that may never have you looking at the night sky the same way again, Chasing Shadows is the first book in the multimedia Sekret Machines franchise that will reveal fascinating secrets surrounding the true, well-documented events of Unidentified Aerial Phenomenon. Written by award-winning creator Tom DeLonge and NYTimes bestselling academic AJ Hartley in a powerful collaboration with top government advisors, as revealed by the 2016 Presidential election Clinton email Wikileaks, that keep the truth on course in this historical thriller. For those who know… that something is going on… The witnesses are legion, scattered across the world and dotted through history, people who looked up and saw something impossible lighting up the night sky. What those objects were, where they came from, and who—or what—might be inside them is the subject of fierce debate and equally fierce mockery, so that most who glimpsed them came to wish they hadn't. Most, but not everyone. Among those who know what they've seen, and—like the toll of a bell that can't be unrung—are forever changed by it, are a pilot, an heiress, a journalist, and a prisoner of war. From the waning days of the 20th century's final great war to the fraught fields of Afghanistan to the otherworldly secrets hidden amid Nevada's dusty neverlands—the truth that is out there will propel each of them into a labyrinth of otherworldly technology and the competing aims of those who might seek to prevent—or harness—these beings of unfathomable power. Because, as it turns out, we are not the only ones who can invent and build…and destroy. Featuring actual events and other truths drawn from sources within the military and intelligence community, Tom DeLonge and A.J. Hartley offer a tale at once terrifying, fantastical, and perhaps all too real. Though it is, of course, a work of… fiction?
Product Details
Product Specification
Author

Author

ISBN-13

9781943272297

Series

Format

Paperback,

Publisher

Publication date

Feb 28, 2017

Pages

704

Product dimensions

133 x 212 x 46mm

Weight

680g
Categories