Shaken
: Drinking with James Bond and Ian Fleming, the official cocktail book
A Hardback edition by Ian Fleming in English (Sep 6, 2018)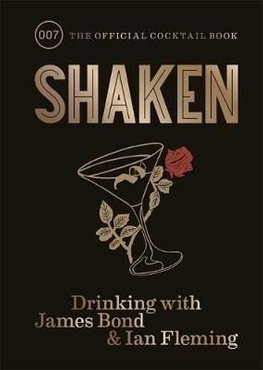 Sorry we don't currently have this.
Please click below and we will notify you when it is back in stock.
Short Description: The Official 007 Cocktail Book... Read more
Product Description
The Official 007 Cocktail Book
Just as fast cars, exotic locations and opulent casinos are synonymous with the world of Ian Fleming's James Bond, so too are cocktails. From the very first Bond novel, Casino Royale, in which Bond christens The Vesper, to the immortal lines, 'shaken and not stirred,' which first appeared in print in Diamonds Are Forever, cocktails are at the glamorous heart of every Bond story. Whether it's the favored Martini, which features in almost every book, or a refreshing Negroni or Daiquiri, strong, carefully crafted drinks are a consistent feature of the Bond novels, and they have become a symbol of the James Bond lifestyle which so many fans aspire to emulate.
In this authorized James Bond cocktail book the reader will discover excerpts from Ian Fleming's writing, with cocktail recipes to match. There are ten classic drinks from the pages of the novels, plus 40 brand-new ones inspired by the people, places and plots of the original novels, created by the mixologists at London's award-winning bar, Swift.
Shaken Hardback edition by Ian Fleming