Shelter: A woman in war. What price will a woman pay for her freedom?
A Hardback edition by Sarah Franklin (Jul 27, 2017)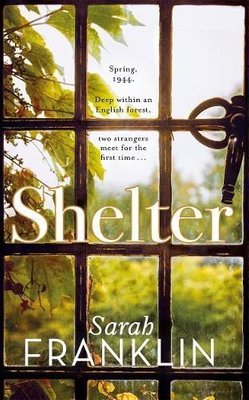 Sorry we don't currently have this.
Please click below and we will notify you when it is back in stock.
Short Description: 'Beautiful' Adele Parks... Read more
Product Description
'Beautiful' Adele Parks
'Life affirming and compelling!' Clare Mackintosh
'Tender and illuminating' Carys Bray
Perfect for fans of Early One Morning by Virginia Baily and the novels of Maggie O'Farrell.
Led here by necessity, she knows she cannot stay. Brought against his will, he never wants to leave.
Early spring 1944.
Connie Granger has escaped her bombed-out city home, finding refuge in the Women's Timber Corps. For her, this remote community must now serve a secret purpose.
Seppe, an Italian prisoner of war, is haunted by his memories. In the forest camp, he finds a strange kind of freedom.
Their meeting signals new beginnings. But as they are drawn together, the world outside their forest haven is being torn apart. Old certainties are crumbling, and both must now make a life-defining choice.
What price will they pay for freedom? What will they fight to protect?
'The world was alive out here, the scent of bud and blossom in
every breath a stark contrast to the thud of bombs into sandbanks,
or worse, the iron tang of blood.
This was a place where you could hide,
where you could start again . . .'
Shelter is a captivating and tender novel about love, hope and how we find solace in the most troubled times.
What readers are saying about Shelter:
'Tender, moving . . . with its unforgettable heroine' Irish Times
'Powerful and moving. Connie and Seppe are amazing characters. So well nuanced. I loved her feisty courage. And such heartbreak! This compelling debut shows how outsiders in a time of war seek to rebuild their lives again' Essie Fox, author of The Last Days of Leda Grey
'I LOVED it. Seppe is one of the most refreshing portrayals of masculinity I have ever read' Shelley Harris, author of Jubilee
'A lovely hymn to the woods and the men and women who worked there during the Second World War' Lissa Evans, author of Their Finest Hour
'The deeply profound effects of war quietly resonate through Sarah Franklin's gentle but delightful debut. Filled with characters armed with little more than their steadfast resolve and plucky humour, Shelter casts a light on the often forgotten work of the Women's Timber Corps and presents it with charm and delicately refreshing warmth' Jason Hewitt, author of Devastation Road
'A brilliant book. Everyone should read it' Alex Reeve, author of House on Half Moon Street
'Such a treat . . . a super sense of place' Rachael Beale, London Review Bookshop
'Beautifully written . . . Authentic and honest' Roger Deek, 'Reading the Forest'
'An impressive debut' WhatCathyReadNext
'Fresh, moving and redemptive' Literary Sofa
'One of the year's hottest debuts' NetGalley, Book of the Month
'Evocative, beautifully complex characters you grow to adore and a grittiness that grounds you within its message of loss, hope and what home really means' Goodreads 5* review
'The book is really fantastic. It's Sarah Franklin's debut novel but I really hope she's working on her second one right now' NetGalley Reviewer
'A tender, empathetic novel' NetGalley Reviewer
'Spirited, determined and reckless, the Second World War brings Connie the opportunity to seek what she's looking for, but the price for that opportunity is a high one . . . an impressive debut' NetGalley Reviewer
Product Details
Product Specification
Author

ISBN-13

9781785762994

Format

Hardback,

Publisher

Publication date

Jul 27, 2017

Pages

432

Product dimensions

150 x 224 x 37mm

Weight

562g
Categories