Sinbad the Sailor
A Paperback edition by Brian Degas and Phil Masters in English (Sep 3, 2014)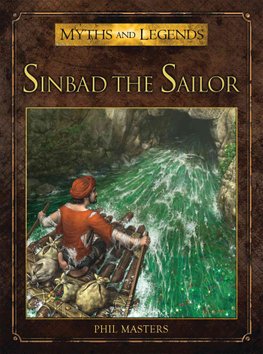 $14.57 + FREE delivery
RRP $17.95 You save $3.38 (18%)
Short Description: Sinbad the Sailor presents a retelling of the stories of the most famous adventurer from One Thousand and One Arabian Nights, with added information covering the history of the... Read more
Product Description
Sinbad the Sailor presents a retelling of the stories of the most famous adventurer from One Thousand and One Arabian Nights, with added information covering the history of the stories and the age in which they are set.
Stories say that in the age of the Caliph Haroun al-Rashid, in the port city of Basra, there lived a wealthy man named Sinbad the Sailor. Sinbad had great tales to tell, of the seven voyages on which he acquired his fortune, of the strangeness and terror he encountered along the way, of huge monsters and strange people, and of storms at sea and lands beyond the horizon.
This book retells the tales of those voyages and places them in context. It discusses not only the greater collection of stories known as One Thousand and One Arabian Nights within which Sinbad appears, but medieval Cairo where these tales were told, the historical Abbasid Dynasty which ruled Sinbad's home city, and the great Arabian voyages of exploration and trade which inspired these stories. It also looks at the modern incarnations of Sinbad that have appeared since his tales reached the West - including Sinbad as the swashbuckling hero of stage plays, stop-motion movies, and television fantasy.
Sinbad the Sailor Paperback edition by Brian Degas
Product Details
Product Specification
Author

Author

Illustrated by

ISBN-13

9781472806130

Series

Format

Paperback,

Publishers

Publication date

Sep 3, 2014

Pages

80

Product dimensions

184 x 248 x 6mm

Weight

367g
Introduction: Tales Within Tales /The Stories: The Seven Voyages /The Arabian Nights World/ Sinbad in Later Times /Select Bibliography
Categories
Fiction Science Fiction & Fantasy Fantasy